Emmett decided to save me about $50 today by being ornery when the vet tried to get an X-ray. Due to his lack of cooperation, they were unable to get an X-ray without sedation, and since the purpose of the X-ray was to determine whether or not he could handle sedation, it was a perfect Catch-22. The vet ended up giving him a steroid shot and we're to monitor his wheeziness. If it improves, they will proceed accordingly. So while it's embarrassing that he was mean to the vet, I'm secretly happy to have saved the $. He's been wheezy all his life. I'm 99.9% sure it's asthma. The only other alternative is that he has an infectious disease. I find it hard to believe that he could have had an infectious disease his entire life without suffering worse effects or getting over it.
Cookies! Nom nom nom. These are peanut butter cookies with peanut butter chips and chocolate chips.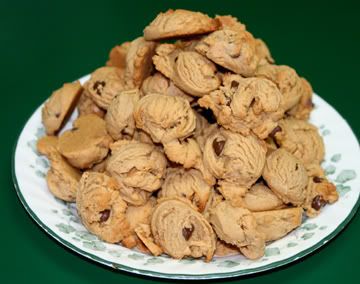 My stylish hogu strap covers. I wish I'd had some Hello Kitty knit. They seemed to help last night.
I bought this a Borders a couple of trips ago and we've been using it for TKD nights. Yum! At $6.88 (or somthing like that) it was a very sound investment.