Don't worry. I'll warn you when to look away. ;o)

I have some catching up to do now that we're home and I can post pics. First off, a restaurant name that has been giving me fits for a couple of years cuz I can never read the sign before I'm past. I finally managed to immortalise it in digital format when we drove to WI on Christmas Day:
Dunno how to pronouce it. Like it's spelled, I guess. ;o)Still haven't Googled it like I planned to. Has anyone ever been there? It's near Janesville, WI. (OK, now I've Googled it for the lazy people ;o) )

Technically this should have come first but it's not as interesting. This is a building we always pass when we go through Chicago. It used to be a burnt-out shell, then we noticed that someone was gradually fixing it up. Wish I had a "before" picture.
Look, Linus!!! It's the GREAT PUMPKIN!!!!! Or else a HUMONGOUS Pez dispenser. . .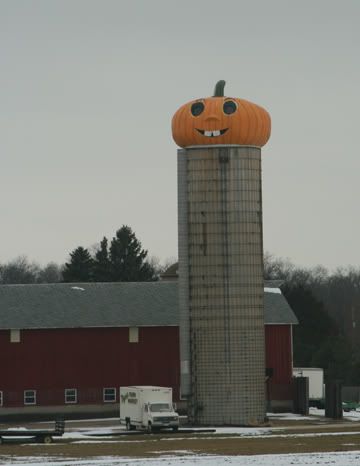 Ever need a place to stash all that dirty underwear? Here it is!
Please tell me you get it.
Oh yeah - Trillian celebrated our return by playing "tree-topper" while I blogged and listened to Bob Manor and the Getaway Drivers. (My sis is their new backup singer and I stole my sis's CD **grin** Really Great Stuff!! Don't worry. Navan is still alive and well!)



I had so much fun this week - laughed so hard!! (I'm a laugh junkie, so this was Nirvana!) My sis finally got up the courage to tell me what was so particularly disgusting about Throwing-Up-Buffet-Lady. (a few paragraphs down, after the disclaimer) So what was so special (look away, oh weak-stomached ones) was that the lady was CHEWING what came up as she vomited. That is the all-time gross-factor winner in my book. I don't think a puking story can get any worse.

OK, now the NC-17 part. Avert your eyes, kiddies! (Mollusc, this means you, too!)

********(I'm not kidding. Go away, children)**********

My friend (I swear it's not me. I wouldn't have the guts to post it if it was me, LOL!) had a toy - you know - a *toy* - and it BROKE the second time she used it. The bendy wire buried in the core of the material (so it could be bent/shaped) BROKE and now it's experiencing Erectile Dysfunction. I wanted to cheer her up, but seriously, what can you say about something like that? So instead I laughed until: I couldn't speak, my eyes were watering, and my stomach hurt. Well at least *I* feel better. ;o) No one was hurt during this incident. Well - besides the toy that is. No, I don't have a picture of Floppy.