Snow.

Bloody snow, I tell you.

On the ground. Covering it. All white-like and that.

I mean, really.

I honestly thought that
GuTTer MuNKi
was joking when he announced it this morning. Then I thought it was his blindness helping him to mistake patchy frost for an entire blanket of white snow covering the ground. I was wrong, dammit.

Two days ago, my elbow was hurting. This would be the elbow that is now the wrong shape because I injured it when I was 8. Long story, but it involved a bamboo scaffolding, 2 accomplices, and a lot of pain. I won't bore you with the details.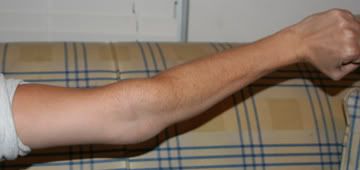 This elbow is handy for 2 things. 1) It can reach around corners. VERY handy for reaching back between the seats to hand stuff to the kids in the car. 2) It's a weather predictor. More specifically, a precipitation predictor. 2 days before precipitation, it aches like a BIG dog. Bleh. But sorta handy since the weather guessers suck so bad.

When my elbow predicted a storm for today, I really thought it was going to be rain. It's probably all my fault for feeling smug when my mom said they were supposed to get snow in WI today.

Keep your eye on the sky. Never know what you might see up there.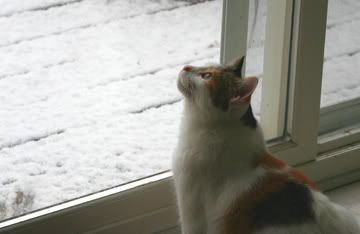 *50 points to Gryffindor or the house of your choice if you can get my title
acronym
. It's pretty easy, IMO, but LMK if you can't get it. I know that GMTA so at least one of you is bound to figure it out.