Have you ever known anyone with an

Obsession

? Have you had one of your own? For a while I was obsessed with POTO:



Well, OK, I still am.


Some people might think I'm obsessed with this guy: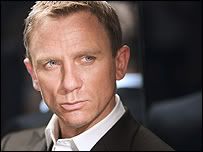 And this film:



I'm also obsessed with -- or at least addicted to -- reading (blogs and books), writing, music, men who smell nice, men in tuxes, men who write while wearing tuxes, men with the word MuNKi in their name, men with accents, men -- well, let's face it; men in general are quite lovely aren't they?

George Lucas is clearly obsessed with the clitoris:


(Is it not sad that I had to point this out to

GuTTer MuNKi

*? He was clearly off his game when we watched.)
As far as musical obsession goes, when I get a new CD, I tend to play it over, and over and over and over again - kind of like a kid with a new movie. Right now that CD is Sam's Town, by

The Killers

, but soon - very soon, it's going to be this one:
(yes, it's clicky)

That's right, my VERY talented and lovely sister, along with the equally talented and lovely Elizabeth and (more debonaire than lovely) Paul have FINALLY gotten CD#3 off to press or whatever it's called, and it will be available in time for Christmas. There's a lot of love and a lot of work in this album, so make sure you buy 50 copies and give them to all of your friends for Christmas. And for those of you lucky enough to live in the Boston area, yes, they will be flying to Boston to do the
Christmas gig
again this year.
*Surprised? You shouldn't be; he's the hand.