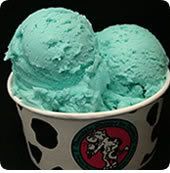 Blue Moon is an ice cream flavour I have always just taken for granted. Imagine my surprise, then, to get an article from my mom stating that the flavour is purely a Midwestern America thing. I first remember getting it as a treat after vaccinations when I was 4. We had to have QUITE a few vaccinations to go overseas, and our parents promised my sis and I ice cream cones after each round to lessen the sting. I remember my mom and dad praising me for not crying each time, but I also remember finally breaking down for the last round. I can still hear my mom saying "I think she's finally just HAD it with these shots," and I had. But I still got my ice cream cone -- it wasn't a bribe against crying, just something calculated to make us feel better. Or maybe, now that I look at it from my parents' point of view, something to make my parents feel better. I think I chose Blue Moon every single time. :) I guess that would have been in Berrien Springs, Michigan, at Mission Institute. We lived in Cicero, Indiana at the time, but I don't remember if they had Blue Moon in Indiana.

I know I've seen and had the stuff lots in Wisconsin -- it's a regular flavour at Babcock Hall on the UW-Madison campus -- and here in the greater Detroit Metro area you can get it. But come to think of it, I'm not sure I ever saw it in California. Neil Gaiman apparently eats it. Wikipedia has an article on it. Amazon sells it. (as gourmet food?!?!)
Have you tried it? Have you heard of it? Enquiring Minds want to know.
Triva Fact: our next Blue Moon here in the Americas will be on May 31. Guess what I'll be eating. :)