I've been busy. Mostly I was reading or out trying to do some garden stuff. Yesterday, every time I tried to get out to plant it would start raining. Wednesday was a day of gorgeous thunderstorms - you know the kind - ominous skies, sporadic distant rumbling, every now and then the rain just teeming down, and, occassionally, hail. I love a good thunderstorm. Especially at bedtime, but all day is fine, too. I love the ones that are so close that your entire world is consumed in a brilliant flash of light that's followed almost immediately by a bone-rattling, eardrum-smashing CRACK! And the ones where the sky is deep purple and you can see occasional forks of white lightning splintering through the sky, and the rumbling roars on and on. But alas, those have moved on now. Fortunately, they left some cooler weather in their wake.

OK, I'm finally posting the picture of my grossly misshapen foot from Monday.

So, after icing it all evening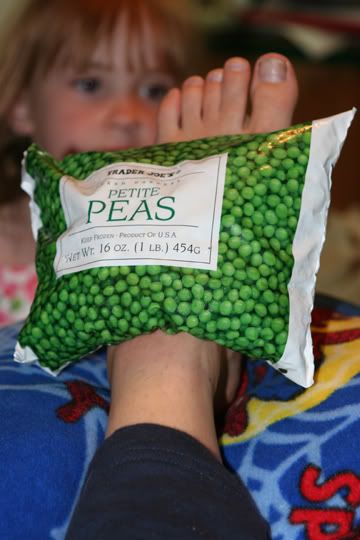 It looked like this: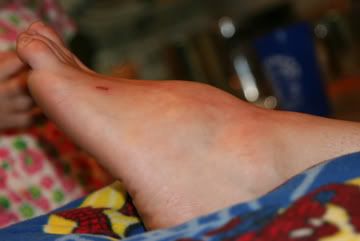 Yucky, huh? Yeah, that lump should NOT be there on top. :-P
Fortunately, by morning it was much better. My knee looks much worse than it did before. I was perfect for the pool - big purple knee, big purple bruise on forearm (hey, at least I blocked!) and a bruise from running into the corner of a cabinet on my upper arm. MMmmm. I look MAHvelous! ;-)
I finished that book (it was riveting) and now must write the review. And get back to writing more. So between that and living outside more, I'm not sure how much blogging I'll be doing. I have a hunch it won't be daily.