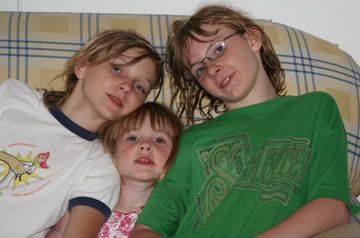 Sisters are important. They lean on each other, protect each other and nurture each other. We planted the Three Sisters in one of our gardens today. (Did you find the hidden link?) I don't know what I'd do without my sister, but the world may safer for the fact that there are only 2 of us. :-)

In other news, a baby squirrel was on the deck this morning. His feet and tail look ever so big on his little bod. :-)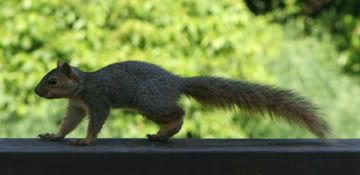 Here's my innocent lamb, spots and all. The ones on her face don't show up so well in this pic, and bear in mind, of course that her back and legs are COVERED as well. Someone at TKD actually asked me if the spots were medicine - did she have measles or something? As IF! Like I would seriously contaminate everyone in the dojang by bringing a spot-riddled child. Humph!


And lastly, but not leastly, sigh, my laptop puked again. *weeps* This time I think I only lost the new children's book. Easy enough to redo, but still. Oh, and I'll have to suck in all my music again. :-( Oh well, my kiddos are watching SW Epi II and I'm going to, too. :-)