I hope this picture doesn't bug you.




And I hope this post doesn't bore you,




but the time has come for a discussion about "Amish Friendship Bread."

First off, let me warn you. If someone carrying a bag of sticky goo and wearing a too-bright smile approaches you at this time of year (or any other, really) RUN; don't wait, just RUN! Why? I'll tell you. Because, Dear Reader, it is "Amish Friendship Bread" starter. "Friendship" is a word which here means "Oh my God, I'm stuck with an incessantly-spawning batch of goo and I'm going to pawn some it it off on you, much like a virus, so that though I'll still be stuck with more than I can handle, at least I will be happy in the knowledge that I'm not alone."

Would the Amish really wish this on anyone? Dear Reader, I think not. In fact, I highly suspect that the use of the word "Amish" here is simply a ruse meant to fool innocent bystanders into thinking that it must be harmless, because, hey, how many Amish serial-killers have there ever been?

Speaking of Amish, I've gotten to wondering about this. Are there only Amish in America? That almost has to be the case. Well, I guess they could go as far as Canada and South America, but travel to other continents, barring sailboats (which I find unlikely) would involve technology that is not allowed by their
Ordnung
. I'm pretty sure the split happened after the whole pilgrim thing. I mean, pilgrims didn't have any modern stuff to shun, did they?

Anyway, back to the evil plot to take over the world bread. The bread comes with instructions and takes 10 days to come to fruition, or ferment, or brew, or whatever. At some point, it starts to do this:




Yes, that's right. I was given two. Not just one, Dear Reader, but two. By two different people. On two different days. But they live near each other, so you know that these two bags are likely the bastard spawn of the same parents.

See how they're puffing up? That's their way of spreading their spores. If you don't open the bag every now and then, it will explode spectacularly, sending splatters of alien goo everywhere in a blatant attempt to
take over the planet
.

In case you do remember to open the bag, thus foiling the escape plans, the instructions direct you to add this, mash that, and stir in the other, and before you know it, your goo has spawned: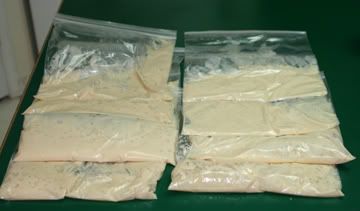 Each bag begets 4 more progeny and what's left (after some more ingredient-adding) finally produces 2 loaves of sweet-bread. Granted, it is delicious, but now you're stuck with all these bags of goo. And you only have so many friends who are still blissfully ignorant of The Curse. So beware. Or you may hear a knocking at your door and open it to this:




And we're going to hand you a bag of goo.