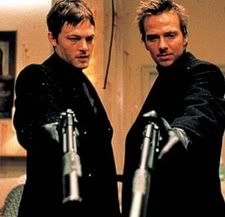 Regarding the election results, I'm with

Blonde

, but I choose to be shot by hot guys. ;)
[/political commentary]
___________
I do love Caller ID. We are getting so many "Toll Free" and "Out of Area" calls that it's ridiculous. But we've hit on a new strategy and are having fun, too. It goes like this:
*ring ring*
(we all run around looking for the phone, which is never on its base)
"TOLL FREE!" the winning child gleefully announces
and then like this:
Slug: Is my pizza ready yet? I've been waiting 2 hours.
Dorque #1: Hello? May I speak to Candace __________
Slug: Isn't this Pizza Hut?
Dorque #1: No
Slug: OK, bye bye! *hangs up*
or
Mollusc: Hello?
Dorque #2: Hello, may I please speak to Can--
Mollusc: Raahhhhrr rahhr rahhr rhaar
Dorque #2: *silence*
This is great! My kids get to have all the fun of prank phone calls without imposing on anyone's personal time or privacy!
Next time, Sluggie plans to answer in Korean. "Yobuseyo?"