Procrastination!! That could be my mundane superpower!!
But alas, I fear that I am not the only one who excels at these things.
Right now, I am busily not writing a letter to my German penpal to put in the box that I actually DID get together in order to mail it before Thanksgiving this year, thus, hopefully, saving myself an exorbitant amount of shipping costs.
The good thing about procrastinating is that I write more as a procrastination device. Normally, writing, because I enjoy it so much that it doesn't seem like credible work, is what gets procrastinated.
OK, just a few words then.
Bamba. Try it. This is the (unofficial) national food of Israel. The bomb shelters are stocked with it (so says a friend who moved there - or maybe she was saying they should be.) Anyway, they're tasty little buggers. And packed with peanutty goodness. Does contain:

peanuts; corn; palm oil; salt; vitamins C, B3, E, B1, A, Folic Acid and B12; iron; and rosemary extract

. Does not contain:
babies, soccer balls, basketballs, skateboards or other sporting afficionados or equipment.
In other inspiring news, I see that Hollywood is doing its best to keep up with its quota of

racist pigs

. And

Scarlett Johansson

(meow!) announces that she gets an AIDS test twice a year. I don't know about you, but I think that [Jedi Force Gesture] maybe she should go home and re-think her life. [/Jedi Force Gesture]
In a completely more intellectual vein (no, seriously) here's my next great Kid's Book Pick. I meant to do this a lot more frequently than I have. (You may recall that I have, to date, done this exactly once.)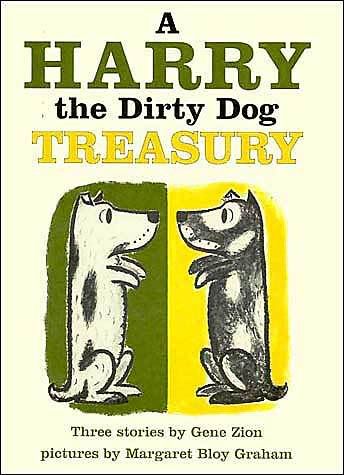 I suppose that's kind of cheating, since I've really picked 3 books, but I love Harry. He's exactly like me, only different.
And now, tell me how much you love this self-captioning picture (see blanket word.)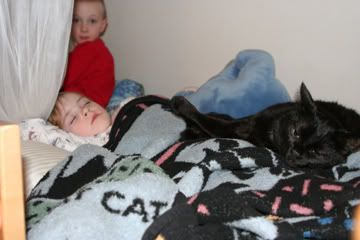 Just so you know, if you have bunk beds and more than one child, the bottom bunk is going to get zero use, and the top bunk is going to get twice that - well, you know what I mean - twice its share, that is. You might think it would be more worthwhile to buy a bunch of those IKEA loft beds. And you would probably be right.
Still haven't seen Jimmy Bomb (more procrastination!), because I wanted to do class tonight since the dojang will be closed Thursday through Sunday, and we'll be missing our Thursday and Friday classes. We used the big bags tonight, so I have some bruised knuckles now. Good thing I remembered to take my ring off for a change.
And now it's finally time to write that letter and pay some attention to GuTTer MuNKi, so he doesn't decide to leave home and re-think his wife.