Sheila, you PANSY!! LOL! Yes, I will make you
some
. Are you not ever going to be brave enough to spill it here? I'm sorry that I don't have any fabric with PANSIES on it, so tell me which Kitty/ies print you want, how many, um, units (that's not the right word, but "pairs" is too big, LOL!), and a hip measurement. And if you don't make at least 1 post here, I may reconsider making them at all. ;o) And we wouldn't want to disappoint anyone, would we? That would be such a shame. }:->

No comments on Haggis PopTarts, eh? I guess maybe they aren't that shocking.

I realised today that I am cursed in the arena of wedding rings. Those who have followed
the saga
will be a little familiar with my trials and tribulations, and my happiness at getting a new one. Alas, today I realised that my new one is BROKEN!!

I don't know why I bothered with the arrow there. Just felt like drawing more. Obviously I need more practice. That looks a bit like it was done by a drunken squirrel.

Yes, the crack goes all the way through! Does anyone question my cursedness in this arena? And yet, I don't really want to get a "tramp stamp" that says "SOLD." :oP So I guess I'll keep trying the whole ring thing.

"How did it get broken?" you ask - if you have even made it this far, and maybe you don't ask; maybe you just say, "get on with it, Chicky-poo. No one really cares about your blasted ring!" But I care, so I will tell you. Ha!
I think I broke it at Tae Kwon Do on Friday night, while punching and kicking the bag. You may (or may not) recall that it was a particularly strenuous and theraputic class. At one point I realised my ring was hurting my finger when I punched, so I took it off (my ring, not my finger.) I suspect it had happened shortly before that. On the brighter side - better my ring than my finger. Usually we aren't on the bags, so I wear it (my ring, not my finger - well, I do wear my finger, but I rarely if ever remove my finger), cuz the alternative - for me, let's face it - is to lose it. I do take it off for sparring and stash it in my mouthguard case where I'll be sure to find it again- I'm not completely stupid. I hope.
Note to Self - do not NOT NOT accept valuable rings from little humanoids with furry feet. What a bad ending that story would have.

Well, enough about that.

Photographic evidence that we did some of what we said we'd get done today:
(pulling speaker wires for surround sound)
The corner where the Christmas tree ISN'T anymore. :o)
A boy is happy as long as he's building. He wanted to show what he's making. There ya go, Yi-Yi.

And here's what happens when I make fire: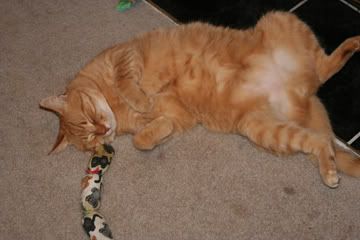 Yes, I do have to fight him for the best spot sometimes.
Well, that's prolly more than enough, plus I think I'm finally making some headway on the novel again (sticky spot) so off I go.