Today I saw what has to be, hands down, the best toy ever made. OK, well, some of you who know me realise that there are some obvious exceptions, but as John so eloquently put it, "I'm just shocked that it actually made it into the production phase." He's right. It's so bloody funny, but I still find it hard to believe that it did make it onto the shelves. Without any further ado, I give you:


THE AVENGING UNICORN!!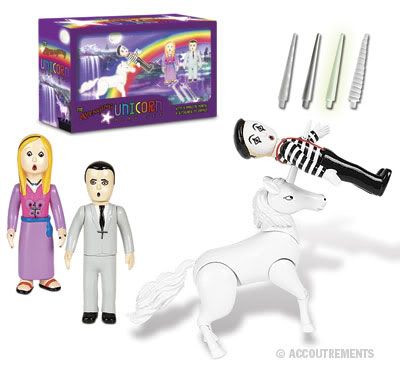 For a photo that's MUCH better than the company's above product photo, check out
this Flickr pic.
Here's the text from the company:

Avenging Unicorn Play Set
Everyone wants an imaginary unicorn friend that they can call forth to smite their enemies.
[SIL adds 'especially mimes' and I concur wholeheartedly!!]
The Avenging Unicorn Play Set has everything you need to use the power of the unicorn to rid your life of irritations. Put the posable, 3-3/4" (9.5 cm) tall, hard vinyl unicorn on a flat surface and then impale one of three 3-1/8" (8 cm) tall, soft vinyl figures included (businessman/boss, new age lady and mime). Also includes four interchangeable horns (classic spiral, chrome, glow and pearlescent.)
The rest of the copy on the box reads:
Unicorns are magical creatures that exist only for those who believe. When they are not frolicking in dewy meadows or posing on windy cliffs they are helping believers do away with daily annoyances. Are you tired of being accosted by creepy mimes? Does the new age lady at the bookstore get on your nerves? Does the arragont businessman talking on his cell phone in a crowded elevator drive you crazy? Close your eyes, take a deep breath and summon a unicorn. If you believe in the magic of unicorns with all your heart and soul they will answer your call.
The Unicorn Code
1. Unicorns never lie.
2. Unicorns always lend a helping hand.
3. Unicorns are loyal.
4. Unicorns can keep a secret.
5. Unicorns don't use drugs.
I cannot tell you how much this cracked me up. I LOVE that you can push the unicorn's horn right through that guy's mimey little chest, LOL! At $12 I'm not sure what was wrong with me for not buying one. Oh to turn back the hands of time. He would fit into the kids' Playmobil™ scenes just perfectly. Darn! Maybe dh will get me one for my birthday.
I did, indeed, get to talk to Frank about musicals (thank you for the plethora of awesome CDs Frank!!!) and I'm so inspired to try my hand at this. I have a lot of homework to do. Fun homework - the best kind!!
Since we're in the land of The Onion and TG was talking star signs, I felt it was only appropriate to link to
Onion Horoscopes
for everyone! I was going to C&P for those too addicted to leave my blog, but those crafty bastards at The Onion made it so you can't highlight just the text. Humph! I'm a Gemini, as evidenced by my 2 complete bodies and split personality.
I think we're watching Boondock Saints again tonight since my sis missed it last night. Hahahahahahahaha!!! I HEART that movie! (really? ya think??)