Random thoughts for today:

I'm not winning the battle with losing my voice. Blah. But nothing feels really bad, so that's OK. I did get kind of winded while warming up the kids for morning and evening classes, but when it came time to do my class, I didn't seem to get tired any more than usual - even during sparring. Only thing is it hurts to cough. I don't have to cough much, but when I do my chest burns and the lower part of my throat. Don't you hate that?

OK, whining off now.

My children - sometimes they can find the most piddly things to argue about, like who does 1st wipe (on the table after a meal, as opposed to 2nd wipe which traditionally has no remaining debris, only sticky spots.) Sigh. Tonight Sluggie wanted me to make Mollsuc do 1st wipe since she did it after lunch. Turns out it was going to make her die if she had to do it, so I made her do it "so she'd get used to it and it wouldn't seem so bad." I'm mean like that. :-/ But then they'll go and do something totally sweet like give a sibling the last, treasured cookie or something. So I guess we're doing something right.

I thought about posting this for HNT: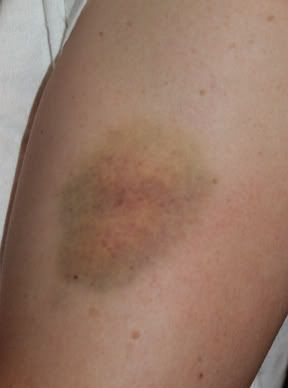 But decided it was kind of a copout since I've already shown the bruise in its earlier stages. I was kinda hoping it would be gone for swimming tomorrow. Alas. The funny thing is that the peeps who only come to check out my HNT and not read will prolly scroll to this pic, see it and take off. So they'll completely miss my real HNT, which will be appearing farther down.

I forgot to try to find a chlorine-proof swimsuit, darn it. Mine is waaaaaay floopy. Scary floopy. Hope it doesn't fall to bits in the pool tomorrow. The bottom's in better shape than the top. Why can't they just make the top out of the same kind of material as the bottom?!?!?

Winn Dixie (the book) was GREAT! No one dies! I thought for sure the dog would snuff it. If you do have kids, I highly recommend it. I don't know about the film since I haven't seen it. My friend says they changed the story, so I don't know if I even want to see it.

Mollusc is starting to get compliments on her drawings from a lot of people. She draws a LOT and is really getting better. I'd love to get her Corel Draw or Paint or something, but I think they're pretty pricey, so I'm trying to find out if there's a Linux equivalent. And I'm trying to learn about those computer drawing tablets, too. Anyone know if there's an affordable version?

A bunch of us were sitting at TKD during homeschool class and swapping birth stories this morning. Why do women always do that? I guess it's a bonding thing. It's a stereotype that we do this, but it's true. I can only imagine that this has been done for thousands of years. And I never get tired of hearing them.

There's other stuff rattling around in my head, but I don't think much of it is particularly arresting. Not that it ever is, LOL! Eh, that's what a blog is for, though. Random stuff.

Oh yeah - my real HNT:


Know what I like? That cool little diopter adjuster on my Canon that lets me take pics with my glasses off and see clearly through the viewfinder. Neat-O. This is the first time I've used it cuz I forgot it was there until now.