I learned one more thing about satin sheets last night:

5) You can actually die of electrocution from the static electricity when changing the sheets.

Today we bought some lumber and John put together the first raised bed for the new garden. In the meantime, the kids and I went around cutting down and trimming back all of last year's plants out front. We put all the brushy stuff in the old garden bed so we could burn it. When The Prawn first learned what we planned to do, she said, "Oh GOODY! I LOVE burning stuff!" And, well, who doesn't?
Slug, Mollusc and I took pics: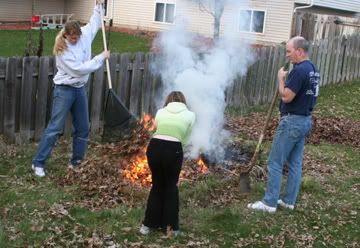 I think Mollusc's hair is actually blowing back from the hot air.
Ooooooh. Fire!
Smoke gets in your eyes. (and chocolate egg gets on your face)
One of the few times Gogo wasn't frantically running for more stuff to throw on.
A little of the fire threatened to escape the box, and though it was easily stamped out, doing so reminded me of the many times my dad would pack my sis and me into the VW bug and go roaring off to stamp out brush fires. I guess it wasn't uncommon for layfolk to act as the Volunteer Fire Department (oooh more Lemony Snicket!) as evidenced by the fire beating mops and instructions at this roadside pullout. That's my mom with the fire mop.

But I never got to use the mops. I don't think there were ever any around the fires we found. We just stomped them out. Ah good times. :-) I suppose it's only fair we chased fires, considering that after my dad launched his homemade, candle-powered hot air balloon, he could well have set fire to half the jungle, LOL!
Sadly, the smoke of our fire failed to bring any hot half-dressed firemen erroneously rushing to our aid. Alas. (I think I'm working an alas into every post these days. Kind of like the whole Blackadder "cunning plan" thing.)

On the way back into the house, I finally remembered to snap the pics of Flat Accident Guy on the snowblower to add to my collection.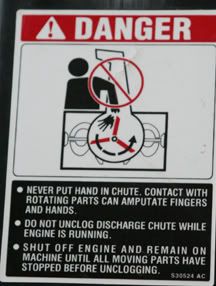 I sure hope he remembered to shut it off when he went to get THAT hand out.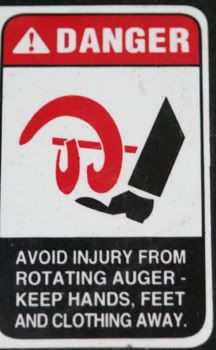 Not as exciting as most of the stickers, but another notch in Heavy Equipment's belt (or at least Flat Accident Guy's shoe.
And finally, mostly to bug Egan and Toby ;-) young Trillian. She's dreaming of Toby's Billy Idol cat picture.