First of all, let me just say this to the perve in Wichita, Kansas who hit my blog by searching on "porn alien creatures": I know Kansas is not that exciting, but sheesh, Dude, if you're looking for Hentai stuff hit

J-List

or something.
And speaking of "perve," I will now take advantage of

Chickybabe's International Perve Day

to post yet another picture of DC. Har! Great excuse, eh?


Let me backpedal most furiously now, in case I've offended any readers from KS, which is truly a gem in the Union. * singing - She's got diamonds on the soles of her shoes *


In semi-keeping with the J-List theme, a big thanks to Fal who turned me onto some J-pop -
specifically
Beat Crusaders.
My fave is Isolation. They remind me of Green Day and, from farther back, The Outfield if anyone remembers those guys.
On to food. This morning John whipped up some delicious cinnamon rolls. Oh. My!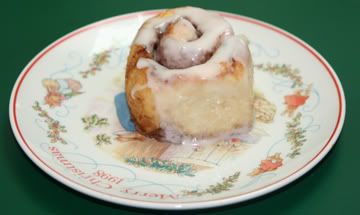 And while we're talking about sugar bombs, if you haven't had Pop Rocks™ since you were a kid, now is probably the time to buy some. Just like

hula-hooping

, you're never too old for Pop Rocks™. Remember how if you bite them with your front teeth they explode with a tongue-blasting snap? Ahhh, good times.
We bought baseball mitts for the kids today. The Prawn had her heart set on a

pink

and

turquoise

Wilson that was on clearance for $7. Well, OK.:o) The only one who didn't get one was The Boy since we knew we had one at home already that should fit him. Guess what I can't find. Sigh.
And now it's time for one of Hannah's Helpful Homemaking Hints ;o) Tired of spending $ on paper napkins that you just throw away? The Wonderful World of Walmart sells 18-packs of white washcloths for $3 and change.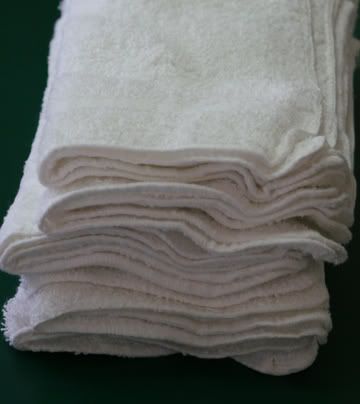 And the best part is that you can wet down one or two to wipe the table, countertops, baby and whatever else after the meal. If you get the white ones, you can bleach them without them getting all sickly-looking. When they get too junky to be napkins (oops - serviettes for you Canadians and Brits :oP is that still an issue? My Canadian teacher (I speak fluent Canadian now ;-) ) was pretty adamant about that when I was young.) you can demote them to the rag bin. Trees, landfills and your pocketbook will thank you.
Spring is trying its best out there:

Things are sprouting up, including the 400 some bulbs the kids and I planted in Feb.


And the younguns have been adventuring abroad in the woods and bringing home trinkets: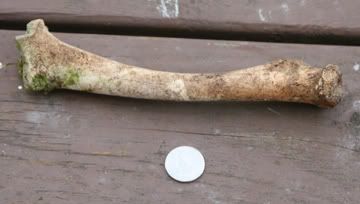 The white scratches above the quarter are gnaw marks. I'm guessing by size that this is a deer bone. There are coyotes and foxes in the woods, so at least someone made good use of Bambi.

Finally, the only thing we did for April Fool's Day yesterday: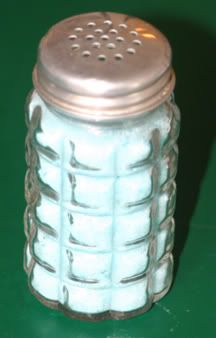 Mollusc coloured the salt blue to shock her father. He was pretty surprised. She did another shaker of nasty purplish-mung colour, but she must have used too much food colouring cuz it got all clumpy.
And so I leave you, Dear Readers, with your minds no doubt spinning from the deluge of random oddities in today's blog. Good night!