First off is Mollusc's cake for Toby. The inside is dark chocolate (almost black) with red cherries here and there - pretty cool actually.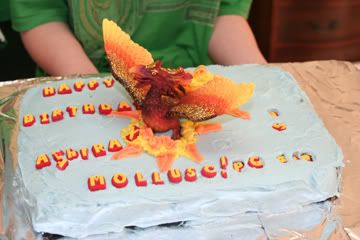 Prawn helped by smashing extra letters into the icing, LOL! Remember, we are not Martha.

OK, next up is HNT. 2 arms for the price of one since I missed last week. Cheap shot I know. And bad puns. Not sure what I'd do with (or without) these without my First Amendment right to keep and wear (heh) arms. I know what you're thinking. "Shoot me now." Sorry. It's late and I get a bit like that when it's late. I'm a real pistol. *groooooan* So here's a pic of me in my chamber. (oof!) C'mon punsters. Wanna go a few rounds? (argh!) I could fill a magazine.(eegads!) I bet all these gun puns are going to be lost on all you non-violent readers. I'll just have to enjoy them myself, LOL!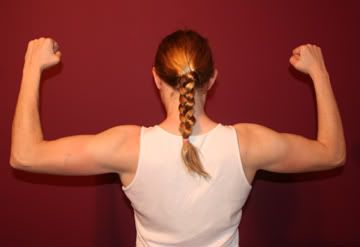 Saprring, though somewhat exhausting, was fun tonight. After about 45 mins of 3-stepping, we did free sparring. The Master was coaching me in Korean since my opponent didn't understand what he was saying. *evil grin* Nevertheless, I misinterpreted one of his commands and ended up getting a hard spinning hook kick in the back of the head. D'oh! Poor opponent was really upset cuz it hurt his heel and he was worried about hurting me, but my helmet and mouthguard did their jobs admirably and I don't appear to be concussed, LOL! And then when my opponent was tiring, I accidentally gave him a hard shot in the side of the head - harder than I'd intended, so I guess it was tit for tat.
Imagine the HNT looks I'll get with "tit" in here. Sorry guys. That's in the earlier HNTs. :-)
I am salt-encrusted and running out of Thursday, so it's time to pull the trigger on this post. "Clear!"