Less than a week is long enough for me to have learned these things about satin sheets:

1) SLIPPERY! (duh)

2) Cold (brrrr)

3) Kind of tacky when you sweat (bleh)

4) Smooth - nice for rubbing feet (or whatever) around on, unless (3)

Overall, I prefer the jersey sheets. Yuuuuummmmm.

Today it was time to make stuff. Every now and then I must create something new. I have a shocking amount of fabric waiting to be made into various things, so today it was 1) Spiderman™ kitty pillow* for Gogo's bed, stuffed with super fluffy stuff and dried lavender from our garden 2) Similarly constructed girlie kitty pillow for The Prawn's bed and 3) Wizard/Dragon/Unicorn pillowcase for floopy old body pillow inherited by Slug when I was finally done being pregnant.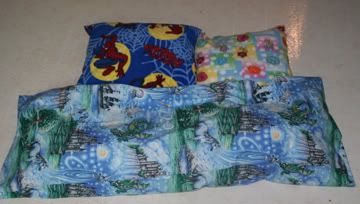 *Kitty pillows = fleece pillows that the kitties LOVE to lie on. The kids have been requesting some for their beds since the ones on our bed are always occupado and they want the kitties to sleep with them, too.
Yes, I can sew real things, too, but the kids seem to have plenty of clothes right now.

And then I felt like making more stuff, so I cranked out some peanut butter cookies. I think we're all getting pretty sick of non-chocolate-containing cookies. :-/ I put choc chips in the last batch for John and the kids.


Tonight we watched

The Three Musketeers

. I hadn't seen it in a long time. Bad part: not very convincingly acted, and since when were they all American? Good part: it's basically one gigantic sword fight broken into chunks that are strung together with bits of dialogue. Well, who doesn't love a good swordfight? At any rate, the kids liked it since they are way into swordfighting right now. (Thank you Frodo, Legolas, Aragorn et al.) Kind of made me want to see the Princess Bride again, though.
Tomorrow the plan is to get lumber for the raised garden beds and slap some together if it's decent out.
Is it possible that there are people in the world who have never seen the Star Wars parody Troops? This has been around for years. Click "movie" (not "film") to check it out. Watch for the Trooper in high heels.
Wench™ out.