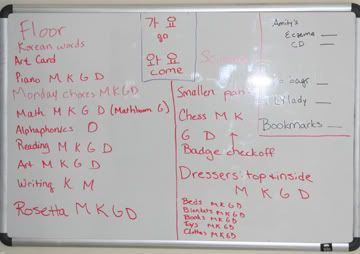 You know how that first work day after vacation is. Note to self: find and buy a CD of something new (to me) with a driving beat. Today I had to resort to Creed, which, let's face it, is not really as motivational as one needs when one is supposed to be buzzing around like a busy bee. But I wanted it LOUD and my 'puter doesn't play MP3s all that loud, and most certainly not in surround sound. So what has a nice peppy beat folks? Suggestions? Maybe I need to buy the Hit in the USA CD.
Yesterday was Sondheim Day™ at our house. My first impression: Sondheim takes the "music" out of musical theatre. Gasp. *dons asbestos suit* I'm not impressed by the "melodies" (read "chanting.") That said, some of the songs are VERY clever and witty and I'm sure that, like all things, they will improve with familiarity. I have a suspicion that Sondheim's work is the sort that you love when you see it, whereas Webber's is the sort that you love when you hear it. There is something to be said for both, and certainly much to be taken away from both. Each grows on you in its own way. I will, in my own turn, produce something that is both amazing to see AND hear. ;-) So far my favourite is "A Little Night Music." I do love the one where Frederick is singing about his Ann. Heh! And there was a rather more melodic one somewhere in all that, but I forget where. I'll be listening to it all a lot more.
Blogger is being a complete pratt. (as in
numpty
, not as in "

& Whitney

" )
I suppose that's my cue to get back on task. Have a productive day, but don't forget to stop and sniff.