My friend, Frank, wrote this great story called "Sign Language" and that's what inspired today's title.

On the way to Kalamazoo there are some signs that really tell you a lot about this state. You've all heard of 8 Mile, yes? They're not very inventive here. Of course we have 8 mi, 9 mi, 10 mi, blah blah blah, but then, when those were all used up, Heaven forbid someone should actually NAME a road. So we have things like this:


I saw plenty more - 6 1/2, 18 1/2. . .

And when a new road comes through, they do this: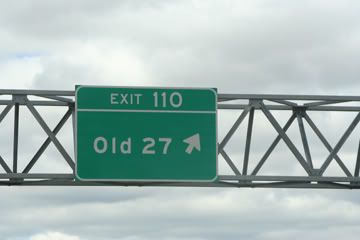 Because, again, creativity is from the devil, apparently.

On the other hand, there are some good ones: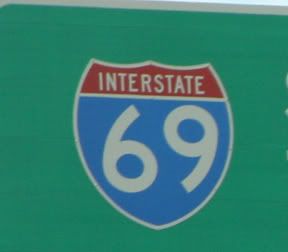 And my favourite town -- I missed the best sign that gives you only 1 1/4 miles warning before you must: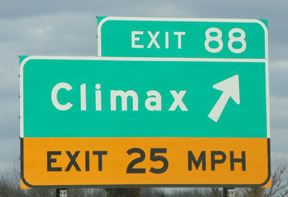 That's not a lot of time at about 78 mph.

On the way to Kalamazoo, we pass Battle Creek, which is:


Can you smell the Corn Flakes?

We also pass a lovely establishment which we always make fun of: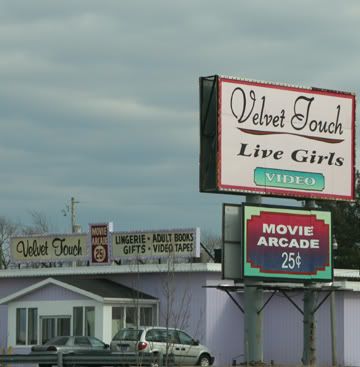 But really, I think we'll all agree that it's better than dead ones.

On into Kalamazoo, where there is one of those banks with the stupidest name I've ever heard, as well as buildings both old:


and new:



right next to each other.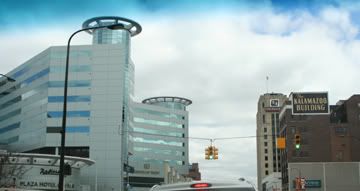 The space age-looking Jetsons building is where we were headed. Inside we saw CATS, CATS, CATS! There was a special room for the Savannahs and Servals which were what we had mainly gone to see. What magnificent creatures!


That guy is an F1 (first generation) male who was VERY friendly.

There were some darling kittens as well: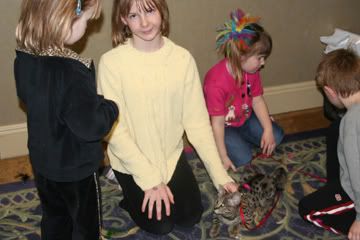 And an F1 female who was very outgoing: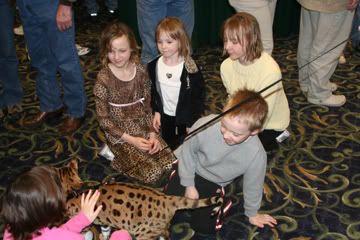 I thought this sphinx had a face that only a mother could love (and that mother wasn't me) but Sluggie seemed to think it was cute:


It was surprisingly velvety, but I think it looks like

Stitch

:

Sadly, none of the signs directed us to purchase a

Savannah

today. (That's the Savannah breeder I talked to the most.) Too bad. They are truly awesome. I fell in love with one of her kittens, but she wasn't for sale. Just as well, since I didn't happen to have $8,000. (gasp) I'd even settle for a

Bengal

. (that's the Bengal breeder I spent the most time talking with) But I guess 4 kitties is good for now.
On the way out, we stopped by the hotel's MASSIVE saltwater aquarium which had plenty of cool fish, but I decided not to bore you with those pics in case no one else is a marine fish enthusiast like we are, LOL! I miss our saltwater tank! They even had a

longnose hawkfish

like our old "Lister." Someday we'll put another system together. When we get the right signs I guess.