I got 3 Korean movies in the mail today, but the telly seems to have given up the ghost. Bummer. I was planning to start on DVD 3 of the Dune mini tonight, too. Sigh. I don't think we can watch the Korean DVDs on the computer because they're region 3. (They work in the DVD player I hacked, but with a broken telly. . . aaargh!) But one of the new discs turned out to be a video CD, so that one should work on the computer. I think. Right?


We went swimming at a friend's pool today. It was gorgeous. Sluggie chose to abandon sibs and friend in order to sit on the side like a mermaid and watch adult males playing water volleyball, fetching the ball for them when it went onto the side. Sheesh. If she went to school she would major in boys.

I had forgotten about the outdoor pool (we've mostly used the indoor one there) and so forgot sunscreen and had to mooch of off our friends. They had some blue Coppertone spray stuff that totally pwns our Banana Boat spray. Theirs actually sprays on in a mist instead of just glurking out a splat of lotion and then seizing up until you unscrew the top and screw it back on again. Very cool. Very easy to use. I bet it's very expensive. But I want some. :-) I was trying not to over-use their stuff and missed a spot on each thigh. It cuts off abruptly at my swimsuit line, thus making quite a contrast with my



(lily, white)
a-- er, bum.
They came over for dinner and GuTTer MuNKi made bajingo chicken. Mmmm. Swimming makes me hungry. Readers, I ate: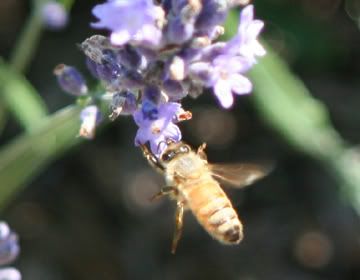 And then I ate some more:


I nearly burst.
Yesterday, Mollusc painted a Korean flag on her toenail. Kachow!
I got another book to review and so far the writing kinda sucks. Uh oh. What do I do now? I'm bummed because I was looking forward to reading this from the description. I thought it had possibilities. But the writing -- sigh. I'm going to keep going. Maybe it will improve as it goes. If not, I guess I contact the review director and tell her it sucks. In the meantime, it reminds me that my writing is better and that "Today is the day that we start wasting other people's time with our crap." (Thanks, again, Pete.)
Believe it!



Bee, leaving