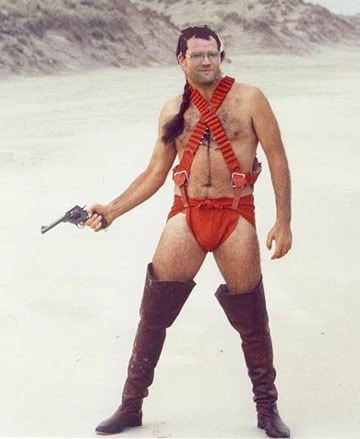 Some of you know my blogpal, Egan, but what you may NOT know is that he recently participated in his first
Biathlon
. Egan never fails to impress me with his dedication to training and to keeping his bod healthy. (And it sure shows, doesn't it?) For this gruelling, three-day event, Egan had not only to run in the 114 degree (F) heat across the blistering sands of Morocco, in thigh-high, chafing boots, but to then lie on said blistering sands on his naked belly, with only a thin layer of cloth between his package and the searing heat, while firing his vintage 1879 revolver at a target that was being dragged by a she-camel in full heat evading pursuit by 3 randy males.

Though training in Seattle's sweltering July temperatures did help our BI-Boy, he says "I should have followed Logo's advice and turned the heat up full blast, cranked the oven, and trained indoors."

When queried about the hardest stage of the event, Egan stated, "Hee hee! you said 'hardest!'" and glanced meaningfully at training buddy Toddster's package.

Though faced with 111 competitors from 56.5 countries (the borders of Mohambugaria/Luisitanskia are currently in flux) Egan made a terrific showing, coming in top of the bottom 69. His strong point was definitely the sashaying (third leg, 12.4 miles) and though he suffered minor chafing, he was clearly the strongest sashayer on the field.

After a shocking announcement by the top 42 competitors that they are all retiring at the end of the season, Egan becomes next year's clear favourite. Go Egan! We're all pulling for you!