"Women and cats will do as they please, and men and dogs should relax and get used to the idea." ~Robert A. Heinlein

Last night Trillian asked why Egan asked for a post without cats. I explained as best I could (given that's it's truly hard to believe that ANYONE could fail to appreciate the exquisitely amazing creature that is the cat) and she appeared to think about it for a moment or two.




And then she snorted and walked off, shaking her head.

Before you read any further, here's a quick question:

Do you know how tadpoles develop their arms/front legs?

I thought they developed like the rear ones. - little buds that grow out and develp into arms, right?

WRONG

! They actually develop *underneath the skin* and then pop out when they're all ready. COOL, huh? I was joking that this must happen after my friend said hers seemed to develop them overnight. But then it seemed that that might actually be what *was* happening. This morning, it was pretty obvious that, yes indeed, that's what was going on. This morning before TKD Sam (or Merry) had one front leg: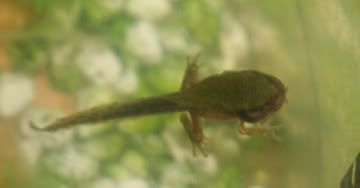 And by the time we got home, the second one had popped out.


His shape has become a lot more froggy, too. Once those arms pop out, the taddies aren't all sperm-shaped anymore.
And now I leave you with this last piece of food for thought.

The problem with cats is that they get the exact same look on their face whether they see a moth or an axe-murderer. ~Paula Poundstone
Here's hoping your alarm system doesn't consist of a cat.