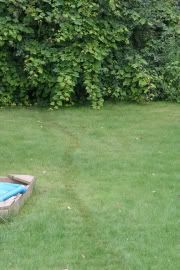 raccoon trail, July 2006
I'll warn you right off that I'm not staying on the path in this one. Not even remotely. (Even if there ARE "guerrillas in those woods.") So what's new?


A wise man
once (OK, yesterday) said:
"Today is the day that we waste other people's time with our crap."
Brilliant!


Last year I joined an order, a sisterhood, in which we set goals for ourselves. Each phase of the moon brings us the opportunity to focus on a different aspect of our goal setting. We also each have our own Life List of 8 goals that we plan to accomplish. Have you ever really thought about what you hope to accomplish in your life? Let me tell you, to sit down and decide on the 8 things that you most want to do in your lifetime - it really makes you look at yourself and how you're doing things. Now, we have a bit of an "out" in that once we accomplish one, we update our lists. So that's a little pressure off, right? I mean if it was only 8 EVER, I think that would be harder. But still. So here's my challenge to you: make your own List. They don't have to come to you all at once, but don't look at it as a "here's a few and someday I'll choose the rest" type of exercise. It might take a couple of days. You might change your mind on one or two. A year from now, you may find some things have lost their importance, and other things have taken their places, but make your list anyway. Eight things, no more, no less. And then get started. But do be sure to stop and smell the daisies along the way.




OK, being serious for too long causes me physical pain. I'm just not a very serious person. Levity is the key to, uh, levitation. . .? Anyway. On to the - LOOK a chicken! stuff.

For the visually oriented, the rest of this post will be peppered with photos.





I'm slowly attempting to make the front of the house more inviting.


So these greet you by the front step:


The echinacea was photo shy, but the mums, ironically, clamoured for a close-up.
(insert clever segue here for seamless transition)

The

following

is proof that I am

1) Overambitious
2) Insane
3) Going to be using a lot of potty words
4) A sucker for pretty fabric
5) And cheap patterns
D) All of the above




Look away now, Poly and Egan. When you hear the chime, you can look back.

I had plenty of help with the cutting phase.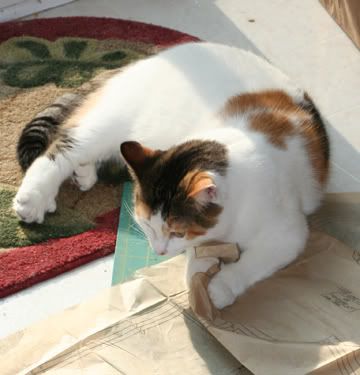 It's Trillygami! This is why God gave her thumbs. 2 on each hand.

**ding** (that's the chime for Egan and Poly)


I had no clue what size to make. I will try to chronicle the saga of this ill-fated project with plen -- OOOH! Shiny thing!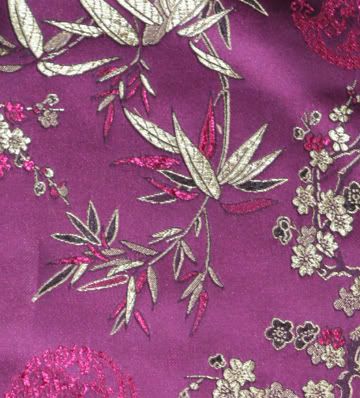 **skipping record noise**

You can tease me all you like about the awful Brittany hair, I did it for
GuTtEr MuNKi
, who promptly rogered me senseless. Afterward, I lulled the birdies to sleep with Enya. (whose music hath a far more pleasing sound than Brittany's)





3 birds at piano



Yes, the books are double-stacked in the case. No, there's not usually any room for them to lean over like that. (Will ho for bookcases.)


And so I leave you. Who's accepting my challenge?



something like the sun July, 2006