Caveat Lector: from now on, click
GuTtEr MuNKi
links AT YOUR OWN RISK. Some are not for children under 18. None are for the emotionally mature.

Hey! Check out Mr. Froggy's legs (well, leg.) He's keeping them small so some evil Frenchman doesn't kill him and rip them from his corpse for lunch. ;-)





Today after kids' sparring, we headed off to
GuTtEr MuNKi's
co-worker's house to see her Savannah cat, Ozzy. Before doing so, however, I made a string of catnip sausages for her pixie-bob (some sort of bobcat derivative) Sigma, and a string of lavender sausages for Ozzy. Lavender affects lions like catnip affects housecats, so I figured it was worth a try. And most housecats like lavender anyway, so why not? Needless to say, I had helpers who eagerly offered to perform quality contol checks on the catnip during this task.





But the carelessly proffered help soon degenerated into a boxing match over who got to do the next test.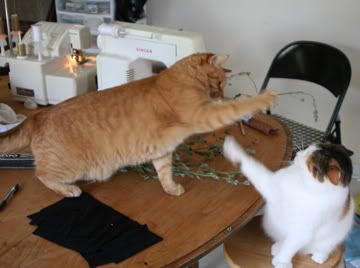 Then it was on to see Sigma and Ozzy. Sigma graciously accepted our gift of catnip sausages.





And was, in fact, quite taken with them.





Ozzy was interested, but not horribly impressed, preferring to play with some of his fishing toys.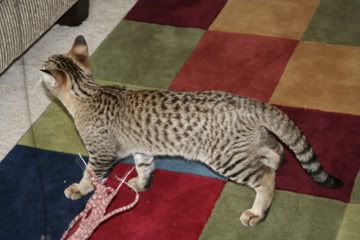 Please note that the hairy legs in the background belong to
GuTter MuNKi
and not me.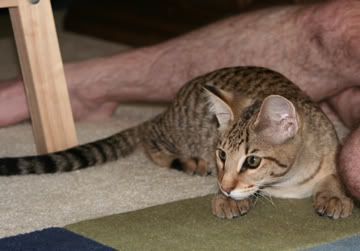 On the way home, we hit
Joe Randazzo's
, (whoops,
this one
, not that one) where we stocked up on lots of fresh fruit and veggies and paid a mere pittance.

Once home, I cut up 3 or 4 different kinds of plums (and some
pluots
) for a plum good fruit salad, and made
pico de gallo
. I thought I might make sangria, too, but alas, I have no glass pitcher and no brandy.

GuTTer MuNKi

made bajingo chicken and those yummy rosemary new potatoes.

I was still feeling somewhat sewy, so I made The Prawn a tiered skirt.





It's not actually messed up in the front. That's just a wrinkle from how she was standing. If you look closely, you can see her black toenail on the back foot. Ow.

Yesterday she had a bit of a crash in the wagon thanks to an overzealous older sister who shall remain unnamed. *coughSlugcough* Check out the scrape between her eyes and the Band-Aid on her chin.




Poor child. But it doesn't seem to be hurting. I've been putting
calendula
on it, which always helps.

Some time after dark (10ish?) the fireworks started. Wow! Some of the neighbours put on quite a show. I don't know if they were celebrating Canada Day (we're like an hour from Canada) or just having some early 4th fun. One of the nearby towns was putting on a show, too, which we could see from the yard. Naturally,
GuTter MuNKi
(after some prompting by me and the little munkis) felt obliged to put on a display as well. The neighbour's grandson came over, to watch, too.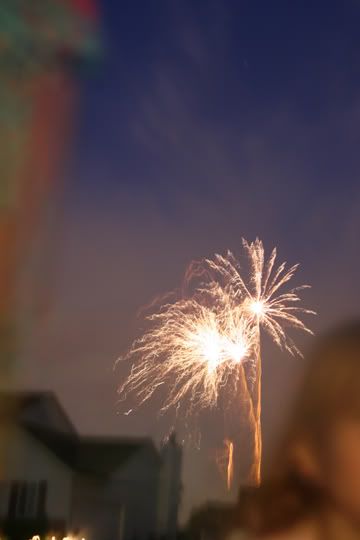 Yeah, they had The Good Stuff. It was pitch black out, but you'd never know it from the picture. Yee haw!! :-)

Some of ours: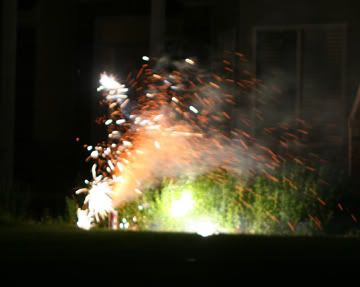 Holy fiery mint, Batman!!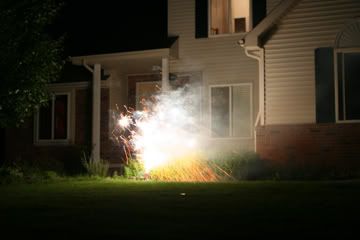 We might not have lit up the sky, but we lit up the front of the house. Actually, GuTter MuNKi set off some mortars that weren't half bad, but I couldn't get the camera to focus on any of it.
OK, now I've angered 1) people who don't believe in interfering with nature (oh, hey, the raccoons are having dinner out there, too) 2) Frenchmen and anti French-stereotype people 3) anti cat-labour activists 4) anti cat-drug activists 5) people who don't like cat pictures 6) Joe Randazzo, and 7) those who are against the manufacture, distribution, and blowing-the-hell-up of fireworks, so that ought to about cover it for tonight. (
Egan
, will you ever read my blog again?? Ooops! Is that you??) Thanks for reading, and have a lovely final few bits of Canada Day.