Several years and millions of lives later, she finally posted another HNT.




She decided to make up for lost time by posting another angle so that discerning viewers could try it at home if they so chose: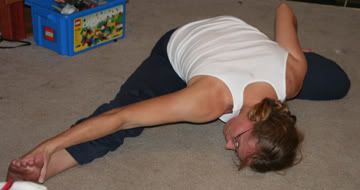 However, she also learned that waiting too long after a 2 hour workout before trying this sort of thing was a sure road to muscle cramps. She was forced to adopt a less than dignified position as she attempted to stretch out her abs. Not being one given to hubris, she thought she might get a laugh if she posted a pic of this as well.



Oops. A bit nipply out, isn't it? Thank you
GuTTer MuNKi
, Blogographer extraordinaire.
I never got to the rest of the extra stuff, did I? It was such a blast. We got to react to a guy (nonexistant for us) "throwing up" onstage. I was asked to do my bit again for a closer shot (yay! though it may well become one with the cutting room floor, I'm not holding my breath) but since I wasn't wearing my glasses, it took me a bit to figure out that I was the one being asked, LOL!
I was so impressed with how a "crowd" was fabricated out of, I dunno, 9-12 people. (I was there for 2 different nights of shooting.) We moved around to sit near different walls, changed things up a bit (hence my lack of glasses for a while there) and circulated behind main characters in order to give the illusion of a much larger number of people than was actually present. Again, I can't wait to see how this all comes out.
I met fascinating people, including a very dapper 71-year-old gentleman (I thought he was in his 50s) who had recently self-published a book called

Dear Alfie

. He had a "cast party" for the book release, and most of the people in the book (including Alfie, whom he hadn't seen in 60 years) were still alive and made it to the party. How cool is that? Chitchat was a bit surreal as we stood around pretending to register for various conferences, as it was a blend of real life and "movie" stuff. Someone might be telling how they "networked" or "advertised" or how they got to the "conference" and in the same breath launch into what they did IRL. I got so confused at one point that I actually forgot where I lived when someone asked me. (Though that could have a lot to do with having moved so much and being back in WI, feeling very much at home, while simultaneously realising I didn't live there. Or maybe it was just my blondeness coming out.) I also met a fight coordinater and wish I could have talked to him more. What an interesting job!
One lady - well, I'm not sure why she was in the film, because she was kinda unimpressed by the humour. She called it "Christopher Guest meets Adam Sandler" but apparently didn't mean the Adam Sandler part in an approving way. (She said she had told this to the Franks (the filmmakers) as well, so I'm comfortable mentioning that here.) Now, I happen to love Adam Sandler and promptly said so. (TG, I can see you rolling your eyes.) Her reply was "You and a bunch of teenage boys!" "Yeah, that's right!" I agreed enthusiastically, glad she was willing to recognise that he has quite a following, and only later fully allowing myself to realise that this was meant as a slam. MeOW! LOL! Does it surprise you that she's a schoolteacher? OOh. MeOW. I got my own catty bit in there, didn't I? ;-)
I really had such a great time, and if I end up cut out altogether, I'll certainly understand. One has to make the best film one can, you know. But of course I had a few of those classic "extra" moments where you go, "Hey! I'm interacting with a main character! Cool! That might stay!" All in all, I have to say that if you get a chance to be an extra, go for it. And then tell me all about it.