Any guesses?

Want a closer look? No? Okay then, here ya go:




Guesses? Yes? No?

Nope, it's not something out of
Fear Factor
. It's the lovely bag of 100+ cicada molts that my kids brought home from our friends' house today. ("Oh pleeeeeeeeeeease can we bring them home?" Sheesh! Anyone want 'em?)

They remind me of something another friend gave me the other day from the Korean grocery store: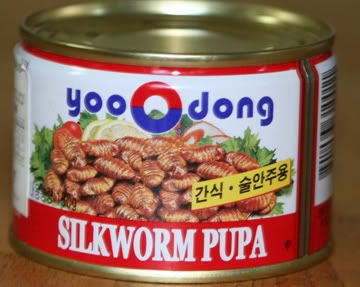 In case you're thinking about trying these but are worried about the nutritional content: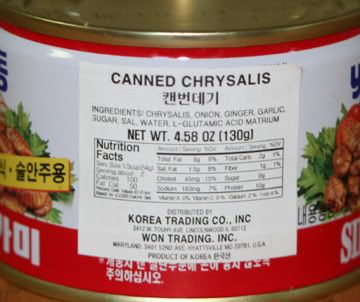 Traditional food. It's too nice
.
Eh, Winters?

*************

You're going to have to excuse my very disjointed format tonight. I'm watching the director's cut of Boondock Saints and listening to Troy Duffy's commentary. So in the interest of my getting to pay full attention to the masterpiece, here are my last random ramblings for the night.


This next is a pic of Prawn's scrapbooking masterpiece. She's a bold artiste who likes to fly in the face of traditional graphic design principals. Her spelling isn't spot on, but certainly not bad for age 4. Actually, she did another page that was well laid-out, too. I should take a pic of that one as well.





We picked rasperries this afternoon. The guy who owns the place was very nice and only charged us for 4 quarts instead of the 5 we'd picked because "I like to see 'em a little fuller than that." I told him the kids had eaten a bunch, too, but he only said "they better have!" and stuck to 4 quarts.

A small portion of the fruits of our labour: