Actually, it's not the equinox until September 23rd this year.

On the left, see an egg that suffered a fatal "clacking" by The Prawn as she gleefully announced "listen to the noise they make" whilst clapping two eggs together. On the right, of course, a well-balanced egg. I guess I'll be making cookies today.

Sometimes, as I try to be a wife, mother, teacher, writer, domestic goddess, photographer, daughter, sister, friend, musician, artist, seamstress, gardener, appreciator of fine films, and life-long student, I do pull off the right-egg thing. Momentarily. But more often than not, I'm more like the egg on the left. If I'm accomplishing one thing, I feel like I'm failing at most of the others. *shrug* C'est la vie.
Speaking of vie, I had rather the fright of ma vie yesterday.

Here's how the Jewel Weed looks right now. The orange flowers have given way to these charming little pods: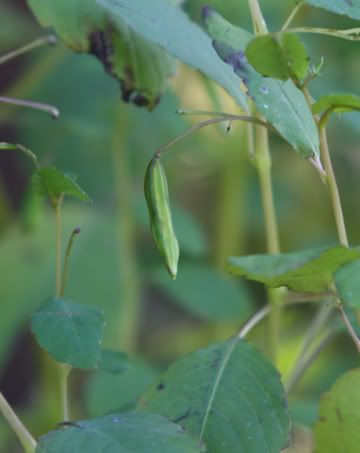 Yesterday was the first time I'd noticed, so I made a closer inspection. Carefully, I reached out to take one of the fat little pods gently between my fingers. (Are those of you in the know laughing at me now?)



BLAMMO!!!!!



The pod

EXPLODED

in my fingers, spraying seeds everywhere.



Holy S---!!!

I tried another.



BLAMMO!!!!



I ran and called the children in order to play a devious trick on them. Mollusc went first.



BLAMMO!!!!! SHRIEK!!!!!



This was immediately followed by the rest of the children diving in and grabbing pods left and right.



BLAM! KABLAM! SHRIEK! SCREECH! POW!! BAM!



And raucous laghter ensued.

I don' t know what the neighbours thought.





Detonated Pod



Of course we had to play the trick on
GuTTer MuNKi
, who had a satisfyingly startled reaction, as did our TKD master (yes, we brought a chunk of plant to the gym.)

Who knew that
Jewel Weed
could have so many uses?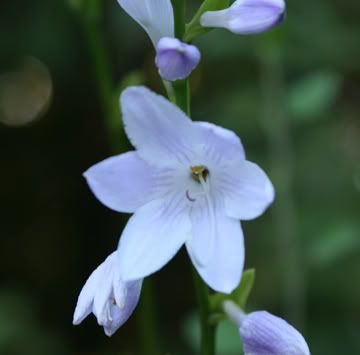 UXH : Unexploded Hosta