Honestly, I think I do have a real post kicking around in my brain somewhere, but it got preempted, because a huge portion of the people who come to my blog come either because they want the lyrics to

a certain bizarre German song

, or because they want to see this picture: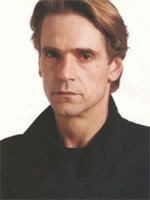 And the sad thing is that I didn't even POST that picture before - just made a clicky link to it.

So, there it is, for all you Googlers who find Mr. Irons as disturbingly hot as I do. Give me some love in the comments section, eh?

I figured I might as well serve up a mancake buffet, as long as I was going to the trouble of posting the Man of the Month (as Mr. Irons seems to be this month - or maybe it's just that the more clicks I get, the higher Google places me up the chain *shrug*. ) So I'm plugging my 2 favourite films.

Name that film:


You noticed.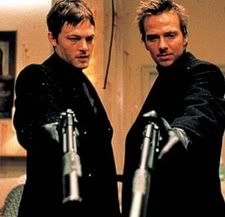 In nomine Patre, et Fili, et Spiritu Sancti

No offense, Murph. Connor just has more pics available online, I guess.
I promise that the next post will be more - well, I can't promise it will be more fulfilling actually. I never know what I'm going to do next.