Look Slade! It's every girl's dream come true: Captain VonButler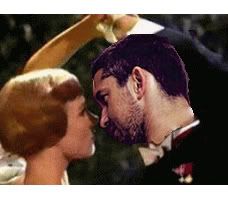 So, people, what thespians would you insert into your favourite movies? Not that I'd take Plummer out of SoM, mind you. :o)

I did not Adobe these next 3:

Do not step on the gas pedal of your new stove!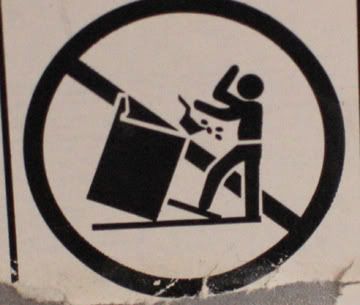 Do not install a slide in your new stove (or place your baby on the gas pedal)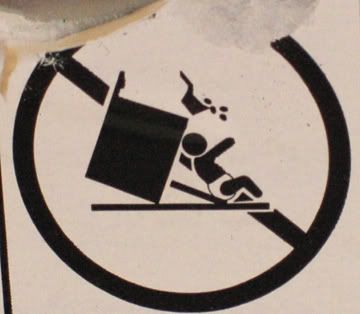 Apparently whatever this guy's doing is OK cuz there's no circle with a slash. Or else it's a warning that there's an electric eel trapped inside the stove. An angry one.

Tonight our TKD Master blindfolded us 1 by 1 and had us do a form. I got Tae Guk O Jang, which ends with a jump into a twist stance. I was actually OK with directions and ending up straight and all, but it was a lot harder to keep my balance, especially on that twist stance. In fact, I totally did not land that, LOL! After that, he had us go 3 by 3, one behind the other. Our group got Tae Guk Sam Jang and then Tae Guk Sa Jang. After Sam Jang, I had no assurance whether I was where I was supposed to be, so I was leery of walls for Sa Jang, LOL! (Plus the Master was messing with me - "Oh, look out, Candy! Wall!" LOL!) **cringe, cringe** Sa Jang really moves you forward, so before the first side kick I asked, "is it OK if I kick?" There was a resounding chorus of "NO!!!"s Good thing I didn't just fire one off - I'd have taken out the poor girl in front of me. Yikes! When I was watching John, there was a loud smack on the wall beside me. The poor guy behind John had smashed into the wall. D'oh!
It amazed me how hard it was to remember a couple of the forms when blindfolded. Do I use more visual cues than I realise? (flags over there, so I need to go this way. . .) But I do them at home, too, so maybe not. Still, I know that starting out facing a diff direction is disorienting. Maybe it's the pressure of being seen but not being able to see? Anyway, it was a good exercise. After that he put us in the final position of Chun Jee and told us to do it backwards. O.M.G. That was sooooooooo confusing! Next time it will be Tae Guk Il or Ee Jang backwards. I have a week to practice, LOL!
Coming next: Fun With Fotos!! Muahahahaha!! Only cunning linguists will get this one.