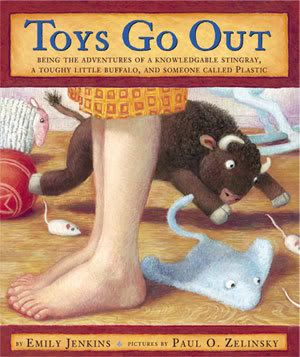 Mark my words, this one is the modern day equivalent of Winnie the Pooh. And by "Winnie the Pooh," I mean the A. A. Milne classic, not the Disney tripe. (puh-leeze!)

I can't say enough about this little gem, and we're only about 3/5ths of the way through. Ok, so most of us don't like "shut up" (cringe) or "farty" in a young children's book, but I'll forgive these transgressions because this is such a delightful work. This is the kind of book you read just for sheer enjoyment of the writing. Even Mollusc and Sluggie come in to listen when I'm reading this one, and they're 12 and 10.
In other news, we finished Day Two of the garage sale. Tomorrow is our last day and we'll shut down at about 10:30 am, pull in everything we're taking to resale shops and leave the rest out with FREE signs. Then it's off to the Owl Show at the library, and from there the mamas head to a free quilt exhibit while the daddies ride herd on the ruffians. Actually, since MuNKi has to help ref at sparring, one daddy gets the whole herd at first. Hopefully we'll get back in plenty of time for the daddies to then reward themselves with golf.