I'm not making fun of you,
Fal
.

I was just inspired by you and think these bugs are cute. :-) If you all want to see some amazing bird shots, head on over to Fal's and check out the Darling Birds of May. He's got some incredible pictures there. :-)
OK, on to the darling bugs:
No idea what this funny little fellow is, but he's a very cheery green. Sluggie took him off to the woods after he signed the picture release form.
These 2 had invited themselves inside:
This little guy was very shy and walked sideways whenever he noticed me following him with the camera. It's a bit blurry cuz he was so very small and my macro only lets me get about 18" away - any closer and it won't focus.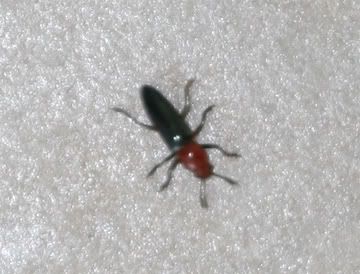 And this is one of those Asian beetles that looks like a ladybug but isn't. Someone brought them to the States a few years ago and then found out WHOOPS! They don't have any natural predators here! D'oh! They bite sometimes - esp the tender underplaces and esp if you're sweaty, and they smell pretty bad, but they're ever so cute in their roly-polyness.
Next up, another non-native that has flourished extravagantly:
And, finally, one of the leeeetle tiny vinca plants that I put in during my planting frenzy has opened up:
I caved to dh and decided to be smart and not spar today after torquing my knee while teaching this morning. It did fine while I taught evening class and did my class tonight, but feels on the edge of something (she said ominously) when I walk. Sigh. We're due to test for Senior Red this month. I need my knee to heal. It was a record non-sparring night (as in nearly all of us went home.) We never miss sparring. This felt really weird. I had really been looking forward to sparring tonight because I had been working on the bag yesterday and had a bit of a breakthrough with the speed of my spinning back kick. Bummer.
My Star Wars source at TKD (well, one of them) told me

that this was up

. It's definitely worth waiting for the video clip to load. :-) Hooray! I can't wait for the game! :-) I know of adults without children who enjoy this game. :-) Fun for the whole family. :-) We LOVE number one. Such humour! :-)
Today was gorgeous again, so I took the laptop outside and squinted at it and tried to write. I wish laptops were easier to see in the sunlight. :-/
Have you seen the iZilla?!?!?!?! I'm still trying to decide if it's for real. I mean, being able to rip vinyl?!?!?!! It's The Cube, straight out of Artemis Fowl! Or very nearly anyway. I learned about it on Peter's blog. Neat-O, huh?
For a strange twist in my universe, it's tub and book time before midnight! Too strange to be fiction, so it must be a fact.