. . .and to have some scary freaking nightmares! (Oh dear. I sense a snargy tone. I'll blame it on sleep deprivation. . .)
The Prawn woke up at 5 something from nightmares. She was all tossy and turny-like, so I took her out to the living room to watch Bob the Blessed Builder (may his name be forever praised) DVDs and take her mind off her troubles. We watched a lot of Bob. And I blogsurfed. It's kinda nice having some one-on-one snuggle time in the wee hours, so I never mind when this happens. If it happened more often, maybe I would, LOL!
The Prawn's nightmares have a recurring theme of crabs, or little spidery things, or even tiny little hands. Maybe they were ticks. She-Ra, it's all
Fred's fault
, dammit!! Anyway. We watched American Bob and then we watched British Bob. It pisses me off that we're considered too stupid to be able to handle British Bob - oh yeah, and Muck is a BOY in British Bob. Why did they make him a girl for American Bob? PCness, no doubt. It's a little confusing to the wee kiddies when the book says HE and the show says SHE. Freaking Transvestite Muck. I will admit that my Limey Bob is a bootleg, but how else is a girl supposed to get a British boy to come over to her crib if she doesn't smuggle him into the country? I guess that's just my own experience. Anyway, he just happens to be Limey Bob because that's the alternate lang track for Hanguk Bob (Korean Bob.) The nice thing about Limey Bob (aside from his hot accent - yes I KNOW he's synthetic, but aren't most toys?!?! ) is that the hedgehogs are actually CALLED hedgehogs instead of porcupines (which they freaking AREN'T.)
And then we moved on to Korean Bob.
Uh, I got sidetracked talking about a children's show. :-/
Sometimes silly things annoy me.*sheepish grin*

Speaking of show. On to EVERYONE"S favourite topic:

Star Wars spoofs.
Hee hee! :-) Very irreverent, yet again. Pretty wild animation.
Whilst I was shampooing the rest of the living room, machine roaring away, I looked up and saw this: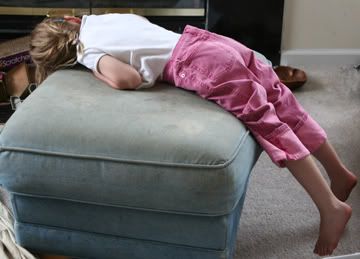 Could it be??
Yes.
And she stayed like that for about 3 hours!
She missed lunch, which involved my favourite Penzey's spice: (if cocoa doesn't count)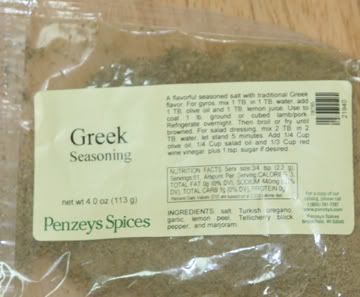 There are a lot of places I could go with this. I'm going to let y'all do it for a refreshing change. Besides, why should I have all the fun? :-D
If you don't want to get raunchy with Greeks bearing spices (or spicy Greeks), you can Caption This!


Here's a pic of the Crème de Menthe layers cake thinggy before the chocolate layer goes on. There will be a side view with layers later. Ah, the sacrifices I make for my illustrious readers. :-) I realise this is a useless picture. But maybe posting it will prompt me to remember to post the finished product. . .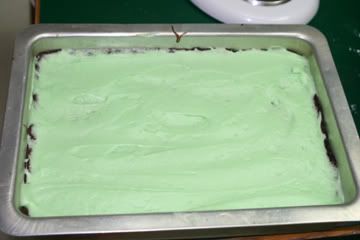 But for now, Code Monkey get up, go bathtub. Code Monkey play wild jungle monkey. Play Fibonacci Fling! Code Monkey like that. (Code Monkey too lazy post link for this Monkey madness. Monkey post tomorrow.)
Go to sleeeeep little Code Monkeys!!