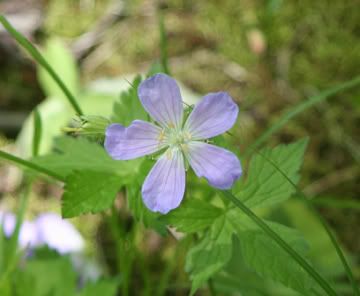 We met friends at Kensington Park today and spent about 3 hours traipsing around with the chilluns. I'm not sure I can do justice to the park. Driving in, you get a few miles of this: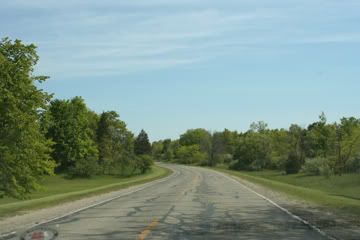 and this:
About 10 minutes in, we arrived at the Nature Centre. Outside, we are always greeted by turtles
and froggies - fat ones - the kind that make a noise like a rubberband twanging:
This "cheeky" little blighter was vacuuming under the birdfeeders:

as was his friend who posed very nicely for me: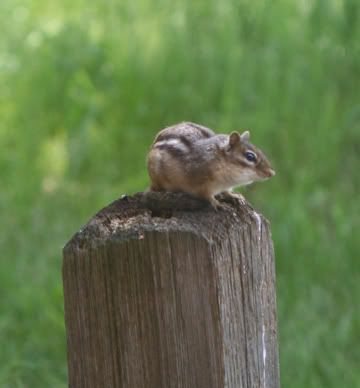 Today we headed up the "Deerrun" trail. The bridges and everything around them are always a source of fascination.

I think these are some of the skunk cabbages we saw

back in March

. (somewhere near the middle of all that)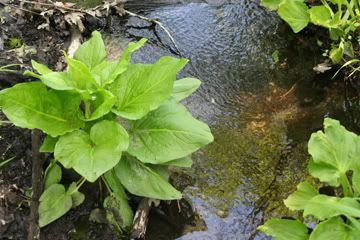 There are lots of little ruvulets and streams crisscrossing the hiking trails.

We also went "offroading" a bit

and spotted a pair of Sandhill Cranes. A man who was also taking pics said they had 2 chicks, but the grass was too tall for us to spot them.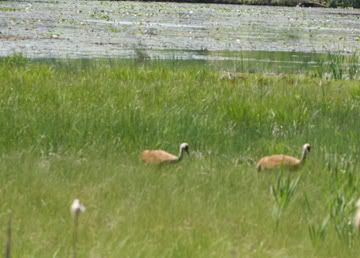 When everyone was sufficiently starved, we headed back past the Nature building to get lunch from our cars, startling a group of baby squirrels who all ran up a tree:

and stared suspiciously at us:


We found we weren't the only hungry ones: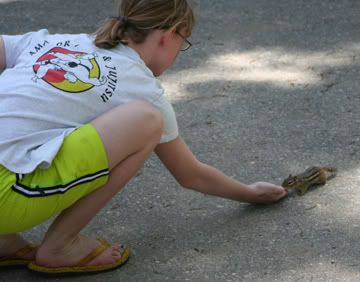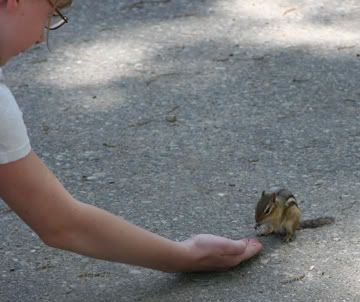 At this point, Mollusc became obsessed with chipmunks and the feeding thereof. :-)

We finally grabbed our lunches and took them to the boardwalk so we could watch the great blue herons in the rookery while we ate, and were tickled pink to see babies poking their little herony heads up from the nests:
We spotted a muskrat here as well, but I didn't get a picture of him.

At this point, Gogo and my friend's son were very nearly absorbed into a passing group of schoolchildren. ACK!!!! Stay with the mamas!!!

The lakes were full of carp thrashing themselves around and against each other - spawning time, I guess. We saw some pretty strange stuff, but none of the pics really show it well. :-P As I walked to the edge of the water to get a better view of the sea monster show (really, the fish looked rather strange and sea-monstery) I looked down and saw a largish snake at my feet.
(I know - not the greatest pic, LOL!)
We also saw the largest wild turtle I've ever seen. A snapper. Oooooh! His shell alone was a little over a foot long.

Finally, it was time to go home: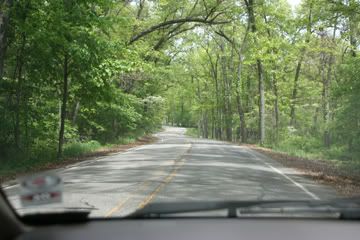 where we were reminded that the great outdoors begins just outside the back door:
Thanks for coming along on our walk. Hope to see you there next time! :-)

Oh yeah - today was apparently "Nun's Day Out" at the park. We saw a lot of pairs of nuns walking all over the place while driving in. I haven't seen real nuns in the wild in a long time. Or fake nuns, for that matter. I tried to get some action photos, but they are not easily photographed while driving.

Tomorrow is
Towel Day
. Hope you know where your towel is!!