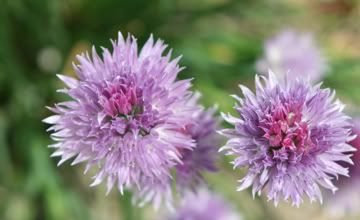 Chives May 29, 2006
Thyme for some more garden posting! Come into my garden and let me show you around a little (cropped views of course, so you can't see any mess, LOL!)
Imagine my happy surprise when I discovered that chives are perennials (they come back year after year, without you having to do squat!!) I love chives! I love being able to walk out my front door and pick them and snip them up and eat them. I love eating the flowers! I love looking at them! I love margaritas -- on 3/4s of one of which I am currently buzzing, thus contributing to my perhaps overenthusiastic raving about chives!! But, no, I do love chives. And I'm really pleased/surprised with how EARLY they grew back and started blooming. We've been eating them for a few weeks now.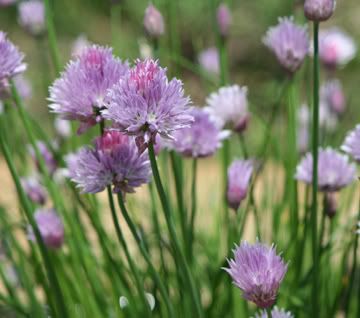 More Chives May 29, 2006
In addition to lovely chives, my lemon balm has come back with a vengeance! And it has spawned little renegade lemon balms! Here's my main bush ;-) with its friend "Chives." (which is actually a different chive plant than the one in the top 2 pics)
Another of their friends, Mint, is overrunning the whole planting area. I had a more expansive pic, but it was messier.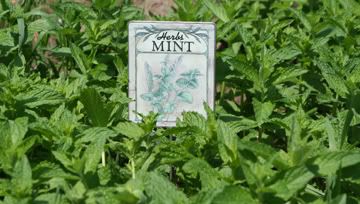 Here's some sage advice. Don't plant mint unless you want to have a lot of it. I have a LOT of mint. I have what you might actually refer to as a mint "problem." Oh dear. Good thing I like mint! The kids made Limeade today and we put mint in it and it was goooooooood! Especially as it was a hot and sultry day!



I believe in unconventional plantings. When I say that "I believe" in them, I mean that I hate neighbourhood whatchamacallit associations and will do anything I can to go against their wishes, ergo, I plant *gasp* FOOD in my front yard. And it looks pretty! You can see my mint "problem" stretching away up along the walk at the top towards the left.


A map of my gardening sins:

It was right about here that a wasp landed on my foot, but no Sting. Let's hope the blue turtles stay away from my garden as well.
I had one green bell pepper plant left after planting the garden boxes out back, so I planted it with the habanero, jalapeno and chili peppers to see if they would cross-pollinate and give me spicy bells (as I've heard they can.)
I bought the peppers (both spicy and bell) and kale today, as well as tomatoes, broccoli, sage, thyme and rosemary. I LOVE thyme and rosemary. Sigh. I think they are my favourite herbs. I would like to roll naked in thyme and rosemary.
Did I say that out loud?


Rosemary has to wait for me to buy her a pot. Apperently she's something of a pansy and needs to come in over the winter.



While we're on the subject of nakedness aromatic herbs, I'd like to show you something.



See the healthy lavender in back? See those sickly 3 in front? Why? *cries* Any ideas? The sprinklers have only just been activated as of Friday, so it's not a water issue since all have been getting the same amount from the sky. One of them is infested with snake grass, but the other 2 aren't. My poor babies! :-(



snake grass aka horsetail aka scouring rushes aka Equisetum aka glyphosate-resistant PITA
Does anyone know how to deal with snake grass? I'd never even heard of it until we moved to Michigan.
On the plus side, apparently it's a powerful medicinal herb used for UTIs and stopping bleeding amongst other things.
We have some work to do out by the herbs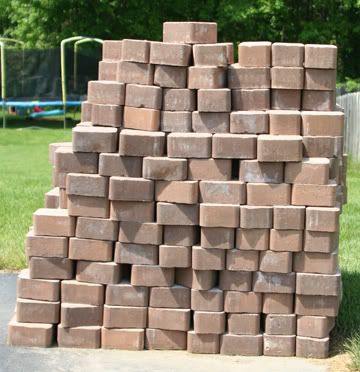 Anyone care to guess what pattern we're going to attempt?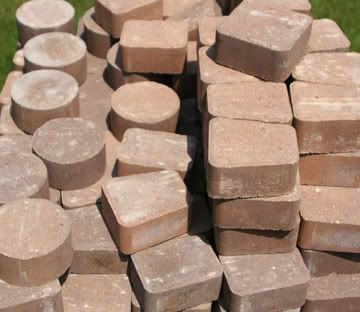 Should be fun!
Perhaps I will join The Slug while John does the work: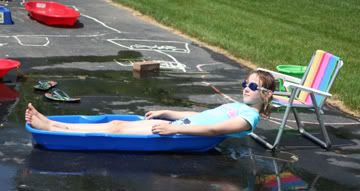 As it turns out, I think I accidentally remedied my farmer tan today. Now I have a spaghetti strap tan. Maybe I should garden topless. Hmmm. . .

Out back I planted a shade garden a couple of weeks ago and it's coming along. I also buried Jimmy Hoffa under there. Shhhh. Don't tell.
I also planted the second garden box today: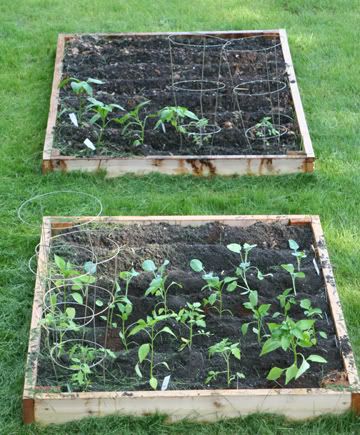 $35.00 worth of herbs and veggies went a long way! :-) (remember the peppers, thyme etc, out front are part of that, too)
I'll husband them so well,They shall go far with little.
The big thing to hope for now is that we don't see any of this in the garden: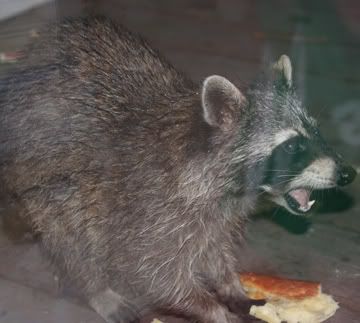 I'll have to keep leaving offerings on the deck!
On a totally unrelated note, make sure to go to Peter's blog and watch the Carbon Freeze Sequence. It's great!!!:-)
PSA courtesy of John who invented this today (did I mention I love the man?):
Chicken recipe -- Glug some olive oil and balsamic vinegar into a big ziploc bag, add chopped chives and throw in chicken breasts. Marinate for about hour. Remove and hit them heavy with kosher salt and coarse-ground black pepper. Grill over mesquite charcoal. Eat until you can no longer walk. Mmmmmm!