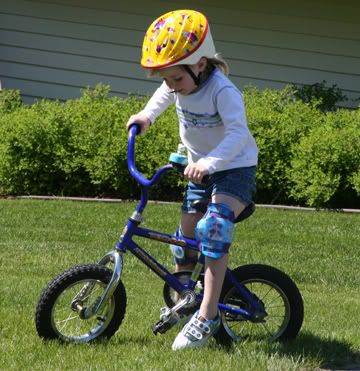 Today I began teaching my 4th child to ride a bike. I've been through this three times, and it really brings back memories. Two of mine learned on the same grassy hill that led down to the park in California. Gogo trained on the hill here in our yard. Was it only last spring that he learned? And now The Prawn is ready. She did GREAT! Like all kids, she's somewhat prone to panicking, throwing up her hands when an obstacle comes into view, and putting her leg down way too early, but on her first day trying she had several successful runs, one where she was actually pedaling well beyond the momentum imparted by the hill. Every crash ended by her shouting, "I'm OK!" and there were several runs that did NOT end in crashes. Go Prawn! :-)
It's Band-Aid season again. After Prawn's bath, I attended to various (non-bicycle-related) cuts.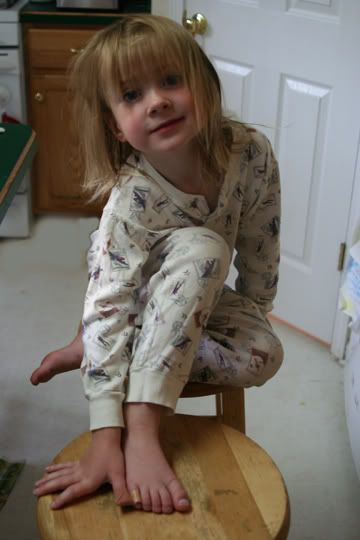 Upon which she uttered, "Look! They Rhyme!"
Spring brings on the desire to ditch the old and spiff everything up. We attacked Mollusc's room with a vengeance yesterday. Emmett heard us vacuuming and came to "help."
Since some of y'all like food pics, here's the fudge I made on Sunday. It's gone already. :-P


I held a 5 week old baby today. I haven't held a baby that young in a long time. His mother is 17 and his father is 18 or 19. Sex ed, let's face it, is worthless. They both knew ALL of the options and chose not to use ANY of them. I hate to say it, but the parents are both losers from a legacy of loser families - her father's a drunk, her mother a person who actually fell for the email saying if you send a guy in Nigeria $3,000 he'll transfer $100,000 into your acct and let you keep a percentage. His mother was killed by her boyfriend, his grandparents also killed by one of his mother's boyfriends (not sure if the same one or not) his father is in prison for molesting him and many other kids. It breaks my heart to look at this little baby - so perfect, with the potential to be absolutely anything - and to know that he's doomed, doomed to follow in his parents' footsteps, to be white trash with no education, no sense of what a family should be, no parents who will make him a priority in their lives and love him the way he needs to be loved; to know that he'll be just like all my friends in my old neighbourhood when we first moved back to the US - snotty-nosed little ragamuffins that were always afoul of the law, all of whom ended up in Juvie by the time they were 12. To look at this beautiful, perfect baby - a clean slate - and to know the fate that awaits him just sucks. And still I hope for a better future for him, even though there is absolutely no grounds for doing so.
And on that happy note, I bid you adieu.