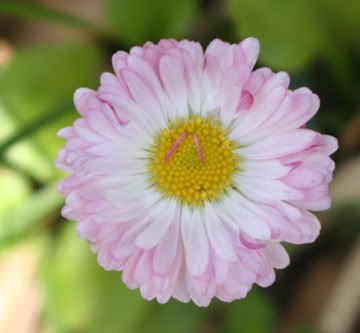 some sort of flower, May, 2006
Once there was a woman who thought that she would like to be a gardener - not full-time or anything; she just thought it would be lovely to be able to grow things. Besides weeds, that is.

The woman ordered a reasonably large quantity of plants, most of which arrived in very good condition. She smiled as she planted each baby flower and bush, imagining how they might look when they grew up, while not quite believing that they ever would. Nonetheless, she tucked each one carefully into its bed, talked to them all a little bit, telling them to grow strong, and gave them plenty of water.

As the sun and rain fed the little plants, she smiled to see their progress - to see how the floppy, somewhat wilty ones were strengthening and beginning to stand tall, how the hardier ones were reaching higher than ever and how their leaves looked robust and healthy. She touched the lavender leaves and inhaled their wonderful fragrance. She looked upon her garden beds and saw that all was Good.

A little time lapsed between the planting and the time when the woman saw that weeds were beginning to thrust their tops up through the thick layer of mulch around her babies. Some of her little ones had been mere bulbs and rhizomes when she put them to bed, and she was honestly surprised to see that they were, indeed, sprouting as they should. Determined to rid their safe little beds of the intrusion of nasty, nutrient-sucking, sun-blocking, earth-crowding weeds, she began pulling out the interlopers with vehemence. And then she saw it. A plastic wire tie, sticking out of the dirt where she had just rid the earth of a particularly tenacious weed. A plastic wire tie that had been marking the planting spot of one of her baby rhizomes. Yes, Reader, the woman had ripped one of her babies out of the soil. And not cleanly. Not in an "oops, I can put you right back in" sort of way, but in a rather violent, leaf-ripping, root-twisting sort of way.

Reader, she wept. She put the twisted remains of the little plantie back in the dirt, noting that there was still a bit of root and a leaf or two attached, that there was still a sizeable quantity of root left in the ground with a leaf or two of its own. She hoped desperately that the poor little plantie-poo might survive, but only time would tell. . .