It's been a very landscape-y 3 days. Mollusc has been an incredible help. Thank you, Mollusc!!!
John made a bunch of trips to Lowe's for mulch and took The Prawn with him. The biggest danger of Daddy taking one of the kids to a home improvement-type place is that he's going to come home with some really cute little tools that he probably wouldn't have bought otherwise. This time it was a shovel. The Prawn, however, did make very good use of it: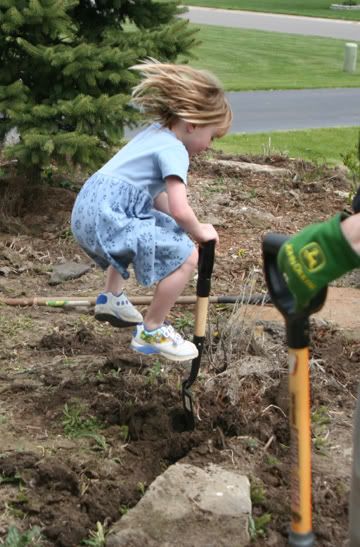 After that it was time for "Stroller Lessons" with Slug, in which the old double jogger found new life. Yes, she is wearing a different dress. What? Have you never had a little girl? 2 of mine go through outfits like a chili dog through an octogenarian.


Eject! Eject!!
Though I didn't manage to catch it on film, most of the time she hit the ground running. She's quite the little athlete, LOL!

This happened over and over again. You can see some of the obstacles at the bottom of the "run" which are the reasons for learning to eject.
I've done a LOT of digging. I'm all dug out. But that's not all I get, there's MORE! Woo hoo! If these plants die, I'm gonna scream, LOL!
Things were cooking in my head to spill into my blog, but they've apparently burnt to cinders and are irretrievable. The one thing I remember is that I wanted to link to the

Young Astronauts Program

because it's cool. I thought it used to be free, but I could be wrong. I still have Mollusc's old book and am thinking of signing Gogo up for it. $10 for a year isn't bad. Or if a bunch of the other hsers at TKD want to do it maybe the $60 charter thinggy would be fun.
Stupid, stinking, heinous Adobe stinking Acro-stinking-bat stinking Reader installed some hideous Yahoo toolbar on my laptop. I am not gruntled. Sink the Houseboat!!! Death to Uncle Jim! I bet only

Logo™

gets that one.
We watched

Narnia

last night and though they did do a splendid job overall, I was really peeved at the changes. Most of it was just stupid stuff changed to add more drama. You know what? It was a great story, appreciated by millions for decades, but no, that somehow wasn't good enough and they took it upon themselves to change it. Sigh. That was really distracting since we know the books so well. The part that bothered me the most was how they altered the character of the children. The Lucy, Peter and Susan of the book would never have run and hidden after breaking a window. But the whole stupid melting river/waterfall thing was lame, too. OK, enough whining. I loved the critters, the acting, the special effects, and James McAvoy as Tumnus was soooo good. :-) I've been a McAvoy fan ever since

Children of Dune

.
Look at that. I guess I was able to ressurrect most of those thoughts after all. W
e're going to watch

Best in Show

now, so ciao!