If you are a salesman and you come to my door - you know what, just don't. Why? Because I have learned to send Dh to the door. I'm too nice. I don't like to hurt people's feelings. I will stand there and listen to the spiel and wait for a polite moment to say "Sorry, that sounds lovely, but we don't have an extra $100,000,000/desire for a block of gold-plated Spam™/use for a 25 hp riding vacuum cleaner (OK I lied, we do, but I'm sure they're expensive) /need for a freshly spayed coyote just now." John is much better about this.
Example #1
Doorbell rings. I see a man through the window beside the door and call dh to go deal with him. Dh goes to door.
Man: (brightly) Hi! We sealed your driveway last year and were wondering if you want us to do that again for ya."
John: Yes, I remember, and you did a bad job. You missed spots.
Man: (shocked) uh (leaves)
See? John can deal with these guys in no time flat, and I don't think he's plagued by a guilty conscience if he ruins their day - at least not if they have it coming. He's dealt with a few people somewhat brusquely - like the guy selling subscriptions to the Freep. ("I wouldn't take that rag if you paid ME.")
But it works!

I missed the best one to date while teaching class this evening. John had come home from work, started to change into his TKD stuff and sat down briefly (

pun

) sans pants to look at something on the computer. Of course he got sidetracked and ended up on there for a while. And then the doorbell rang. To get to our bedroom (and any/all of his pants) he'd have to go right past the door, which is flanked by 2 floor to ceiling windows. He tried the laundry room for pants in vain. By this point, The Prawn was already looking out the windows by the door - no use pretending no one was home, so he sent Mollusc to open the door. There stood a guy with a clipboard, selling something. Crap. John went to the stairs by the door, trying to keep his lower half hidden and said the first thing that came to his mind, which happened to be "BEGONE!" complete with a wave of the hand - almost like a Force Hand Gesture, LOL! The man's reaction: (bewildered) "Be gone?" John: "Yep!" And that was that, LOL! Such authority! Is it any wonder I'm head over heels for this guy? John confesses that he actually felt a little bad for the guy when all was said and done. He has no idea where the whole "BEGONE!" thing came from - it's just what fell out of his mouth. I've been chuckling over it all evening, though no doubt I'd have been mortified if I'd been there.
This puts me in mind of a snappy response a friend (J - a mortgage broker) came up with the other day whan John phoned him at work. John has never called him at work before and when J came on, John said "I was wondering if you can write me a third mortgage so I can get me some more bitches." There was a very pregnant silence and then J came back very cheerfully with "So, how many bitches didja want?" LOL! Classic!! :-)
Links of the Day:
Code Monkey Video
Jonathan Coulton's site

(funny music!! "Code Monkey," "Bacteria," "I Hate California," "Ikea," and more, more, more!!
Thanks Fal! )

And now it's Picture Time boys and girls!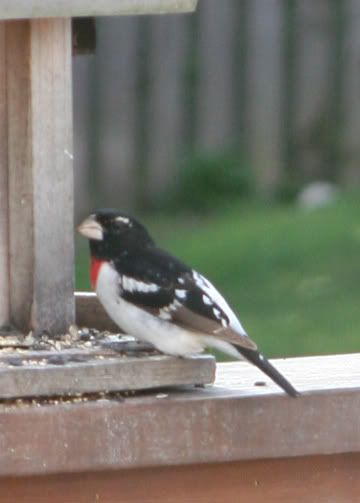 First Grosbeak of the season!
He looks slightly grumpy - I don't think he's too happy about the low level of seed in the feeder.
Cake! This is the Layers thinggy from a few posts down. Ladies, let me tell you, it is a Weapon of Manly Destruction. I think John will do anything for this now that he's tasted it. Enchanted, I guess. (might have been the powdered eye of newt I added)
Lame (

pun

) HNT:
My ankle and The Boy's. See the wee cuts?
Nemesis #1:

Yes, it's the Prawn's hand. More specifically, her nails. Fishy says it was an accident, though.
Nemesis #2:
See that black line around the top? Bloody zipper.(

pun

) :-/