on display for the world to see: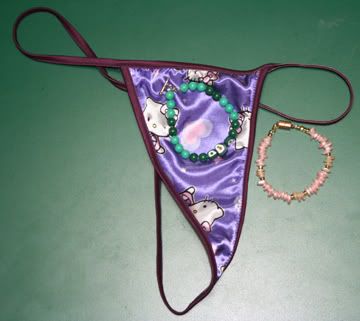 Yep, I was feeling creative, so I made 2 bracelets and, yes, She-Ra, finally a Hello Kitty G-string for you. The first one sucked mightily. Bummer. And I didn't have enough FOE for another go. Crap! But I had enough of the stuff that works with the purple, so at least you get 1 pair. But John says you have to come get them. He may have plans to make you model them. . .
The pink bracelet was made to go with my Amazing Mystery Shirt (and does, yay!) and the other one was just an excuse to use some fun sushi beads I made from Sculpey a long time ago.
We got to blackbelt testing in time to watch sparring and breaking. There were only 3 of the 6 left by then. 2 had failed on curriculum and the other (who always has his curriculum perfect) had gone home after throwing up twice and being too dizzy to go on (lots of spining kicks and back and forth series.) That really sucks because he's dedicated and prolly the hardest worker of everyone who tested. Of the 3 that passed, only 1 was getting her 1st degree blackbelt. The other 2 were pre-testing for 2nd Dan. You have to take 5 or 6 bi-annual tests and on the last one (I can't remember if it's 5th or 6th) you get your 2nd Dan. They kicked for almost 2 hours straight, then I think there was a break for some forms and Qs, more kicking, more forms, Qs, etc. Then, when eveyone's dead, they have to spar and then break - flying sidekick for 1st Dan, spinning hook for pre-testers for 2nd this time. I have a year and a half to increase my stamina. Oh yeah, and to be able to do 150 pushups an 150 situps to start it all off.