Guess what we were making tonight:


The kids were hungry for them and at sparring one of the moms was running to Farmer Jack's (or as the sign says, "Far er Jack's") for eggs because they were on sale 2doz/$1 and offered to grab me some. So that's a little over 2.5 dozen eggs minus whatever the kids carped before I started.
After a rousing game of "Ppppbbbbttt!" "Shield!" (see if you can guess how it works)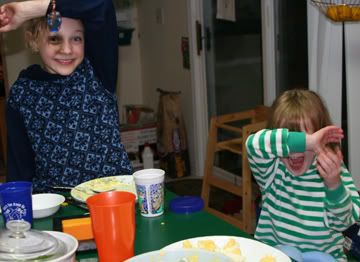 we tucked into the yummy eggs.
Prawn did this for her pic, so of course everyone had to follow suit. "And a little child shall lead them," no?


Slug (always with the crazy hair):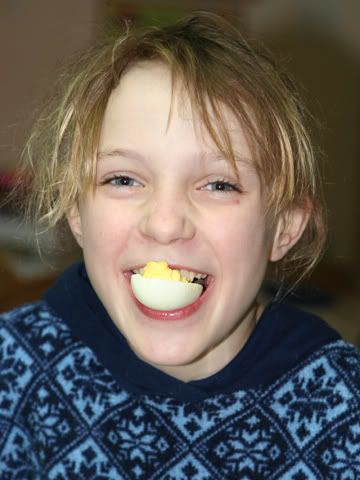 Fishy: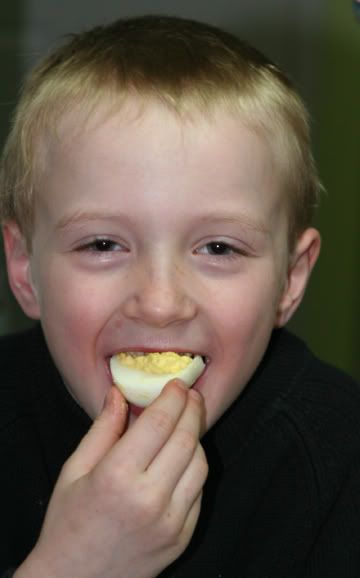 Mollusc demonstrates how they got the name "Deviled Eggs":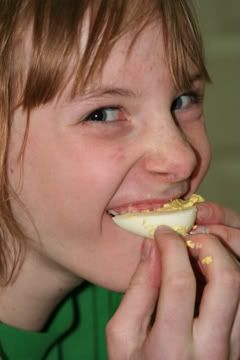 When all was said and done, this was what remained:


Not very Martha Stewart, I'll grant you, but this is a real house and none of us are patient people. You'll find no fancy piping of egg guts through frosting bags here! Looks like there are 13-14 whole eggs left out of our original 31.

Comments heard thereafter:

"I feel sick."
"Ooooh. My stomach hurts"
Mollusc, looking at the remains of her last partially-eaten egg: "Uuuuuurgh!"

Hope they're hungry for them again tomorrow!

So that was the Demons part of the post. Here come the Angels. This actually had the potential to be another Demons part, but they cleaned up the suds all by themselves: