OK, it's not a peg. Yet. Here's what it looks like right now. These are the colours from my "second knee" (acquired on Thursday) after it bled down into the rest of my shin. Bleh. It's way more vibrant in person. And the reddish part near the bottom is from last night - separate sparring incident. I'm thinking I shouldn't have used arnica just so I could see what it would've looked like otherwise, LOL!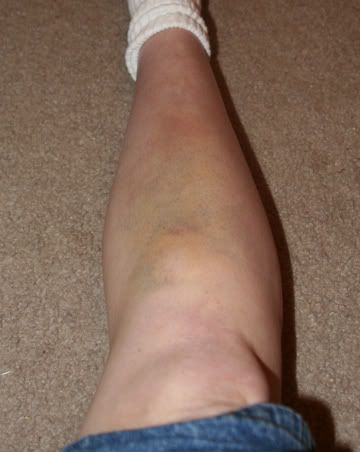 This makes me laugh, because I have cats.

I get all giggly every time I look at it. It's from a comic called "Heart of the City" by Mark Tatulli. The cat's name is Spock. What a great cat name!
I really enjoyed Flightplan. The only major difficulty were the very empty, open, wasted spaces inside the plane. Having worked on planes made it very difficult to employ "suspension of disbelief" there. :oP But OK. Pretty interesting. Needed more Sean Bean (there's a phonetically challenging name - "Shon Bon," "Seen Been" - NO "Shon Been") preferably unclothed. Heh! And it had Peter Sarsgaaaaard, so now I know who folks (OK,

Kris

and commenters on her blog) are talking about when they mention him.
Ah, Wednesday Eve. Debauchery is in my future. :o)