And she was never seen again.

I've had a marshmallow recipe for years and have never tried it. Yesterday, when my friend and her kids were over, we got to talking about marshmallow recipes. "Why?" you ask. Actually, I have no idea, but we did, and today she gave me a copy of hers.
"What the heck?" I thought, "It's looks pretty simple. I'll make it."

It started out easily enough, though I was pretty sure that I'd never get the syrup up to temp. Once it got to about 200 degrees, though, things started moving along and it wasn't long 'til it had hit the target 240. Into the mixer it went, where it was to be whipped until "very thick, about 15 mins." So far so good. It got very thick quite a bit sooner than that, in fact, so I decided it was time to pour the stuff into the pan. I use the term "pour" loosely. Very loosely. Perhaps pictures will say it best:





And then things went downhill.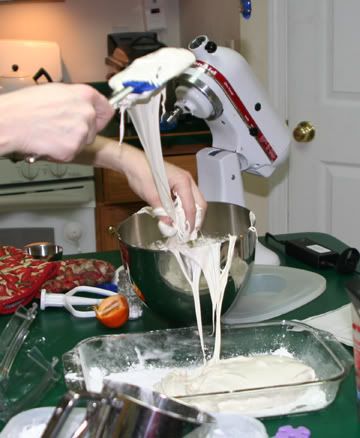 After that, it was pretty much a lost cause. Every wasted second meant that the stuff was setting up more and getting harder and harder to separate from the bowl. The most unfortunate part was that even when I did separate some from the bowl, it then refused to be separated from the spatula, and then from my hand. Had I, in fact, read the very fine print at the bottom of the recipe, I might have seen the words "May also be used as builder's cement." It was sort of like Silly Putty in that a sharp tug would make it snap while a slow pull would make it stretch. I did manage to snatch one last handful from the bowl and fling it into the pan before admitting defeat. Getting it off my hands was another issue. I finally resorted to:

Desperate Measures




The end result looked decidedly unlike the recipe picture: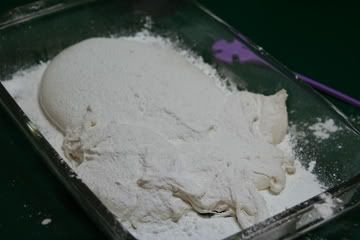 and perhaps more like a whale had gotten off in my kitchen.
Sluggie walked in, saw the atrocity, and asked, "What's that?!?!"
Which was a really good question, actually.
What did I do wrong? I suspect that perhaps I whipped it too long. If you know, please tell me. I might try this recipe again. Prolly about the same time monkeys fly out of my butt.