The evening started with a fabulous dinner. John's signature meal. :o) (keep reading - wait til you see what else he made!)
Pork chops and peppers in balsamic vinegar with garlic and rosemary, new potatoes with garlic and thyme, and steamed green beans. YUM!

On to the presents.
Mollusc will be learning to "paint like a pus!" (strange font on the box. It really says "pro" but it will forever be pus to us.)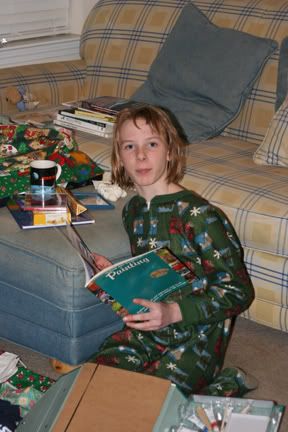 Sluggie got sewing stuff, but the best pic of her was with Trillian:

Yes, Trilly forgot to put away her tongue, LOL!

"Beowulf" got a sword and shield:

And so did "Grendel."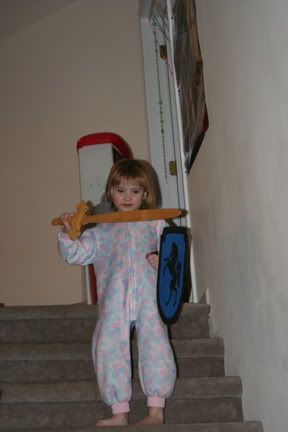 A fight ensued!

I knew dh was making me a Christmas present in his basement lair. What I couldn't figure out, though was WHAT he could be making with wood, fabric, artificial flowers, a LATHE and saw, and paper mache, LOL! I LOVE IT!!! *huge grin*

It's Box 5, LOL!!

Here's a perspective shot with my other present. Yep - he Thomas Crowned it for me (presented it with a pic of "himself" taking it from the museum wall --from the film, LOL!) He assures me the borders will match. ;o)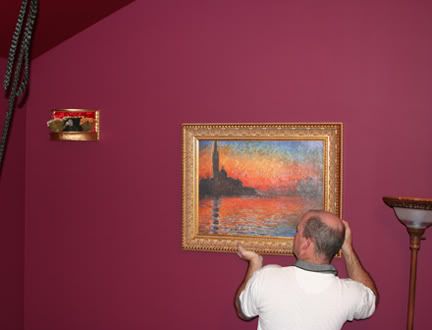 It's been a great evening. Now we're watching Encino Man with the kids (Mollusc wanted to see it when NOT puking.)
MERRY CHRISTMAS EVERYONE!
And hello Iceland and Hong Kong and all my other international viewrs!! :o)