Yes!! Things are starting to heat up around here!
Last night I was too lazy to post more sparring pics, but Mollusc did such a nice job on her combos that I need to post some now.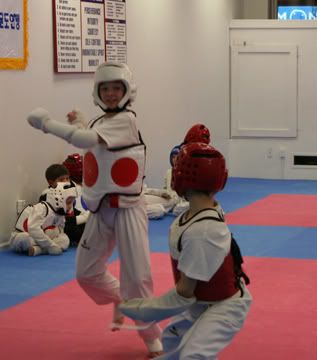 Havin' fun!
"Got 'im!"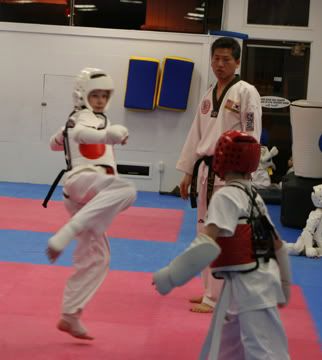 She did great combos last night. Round kick. . .
. . .drop. . .
. . .spinning back kick!
Tonight I'm taking the kids to a Christmas party at a friend's church. I wanted to bring cookies, but then remembered we are sans eggs. Thank goodness for Rice Krispies and marshmallows! We're bringing kripsie bars instead. Gogo hates getting dressed up, but I'm going to make him wear his button up shirt (actually a tiny bit small but it will work) and the Veggie Tales tie we got on massive markdown when the Christian bookstore was going out of biz last summer. I'll try to post a pic. I'm thinking I won't spike his hair into a mowhawk. ;o) (I've been doing that after swimming just cuz it's funny - should post a pic of that, too. And then a friend saw and said that Ricky Martin and some other guy are wearing their hair like that, LOL! Gogo is on the cutting edge of fashion.) All my skirts are Boho and prolly not very churchy, so it's black pants and the shiny shirt for me (buttoned up a little more, LOL!)
TTFN!