Er, um, OK. . . We put the tree up and I gave The Prawn (3) a Wendy (of Bob the Builder fame) ornament to hang up. She asked if we had Bob, too, so when I found him, I let her hang him up as well. A moment after I gave him to her, I realised she was trying to tell me something, so I tuned out of the constant racket I have going on in my head, and tuned in to hear her saying proudly, "They're mating! See? Bob and Wendy are mating!"
Oh my. Avert your eyes if you are bothered by claymation characters doing the forbidden dance. I actually think it seems rather impersonal.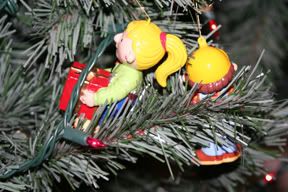 Can't you just hear poor Bob singing now:
"Comme si, j'n'existais pas
Elle est passee au cote de moi
Sans un regard, Reine de Sabbat
J'ai dit Wendy, prends, tout est pour toi." **
Just the same, I guess I'll keep my eyes open for mini Bobs and Wendys climbing through the tree.
Hmmm. I have a 3-year-old making Bob and Wendy mate, and an 8-year-old who wants to marry Snape when she grows up. (!!!) OK, Alan Rickman has something going on, but she wants to marry SNAPE. What's up with that?
I have to say I'm a little bewildered.
** (translation "As if I didn't even exist, she walked right past me, without a glance, Queen of Sheba. I said "Wendy, take, it's all for you."
With apologies to Cheb Khaled. For the real thing, listen to his "Aicha" - a truly beautiful song.)