Bwa ha ha!! It was time to break out the machine today and make these: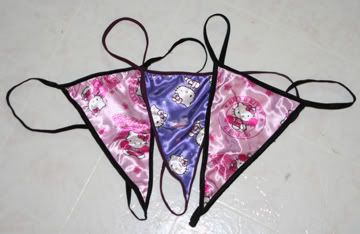 Sheila, how far do you want to take this sisters thing? I mean, do I need to build you some matching pairs? Ha ha!! Not just sisters, but sisters in matching HK G-strings, LOL! Better ask Zorro what *he* thinks. I'm very glad to have more. It's been too long since I made the last ones and they are the comfiest undies I have, despite appearances. Really. I know they don't look comfy, but trust me, they are!
Hmmm, is that all I had to say? Well, hopefully that's enough, then. . .