Remember the Battleship picture from yesterday? Remember the post in which I totally sucked? Remember how we needed to get some groceries? That's OK if you don't. I wasn't paying attention either, and there's no pop quiz. Anyway. . .

I got a call from a friend this morning. A friend of hers works at Panera and brought the day old bread to their kids' basketball game last night. She ended up with more than she could use for her large and ravenous family (several teen/preteen boys and a preteen girl) so offered me the rest. Of course I accepted! When she said she had a couple of bags of bread, I was thinking in terms of a couple of bagged loaves. I was not expecting this:
WOW!!! I broke it up to freeze and left some out for today and we have something like 6 or 7 meals' worth, LOL!! I should have put something in there for size reference. Those are BIG bagels. It's Breadapalooza!

The next picture is of grape jelly, and it might not seem very impressive: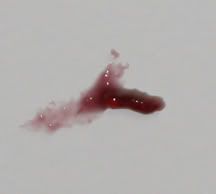 until you find out that it's on the ceiling. Nowhere near the table. I have no idea how it got there, and I don't think I want to know.

Finally, Yin Yang cats:
Well, almost, anyway.
HAPPY BURNS DAY!! Or is it only Burns Night?? Oh well, throw on a kilt (properly! *grin*) and send me a picture. :o)